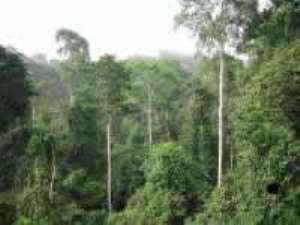 More than 140,000 hectares of forest has been established under the various plantation projects since 2001 to restore the country's lost vegetation.
The Minister of Lands, Forestry and Mines, Mrs Esther Obeng-Dapaah who announced this in Parliament yesterday, stated also that the projects had created over 45,820 permanent and 1.1 million part-time jobs all over the country.
"Mr Speaker, it is expected that with the effective implementation of these measures, the problem of deforestation will be significantly reduced, if not completely eliminated, by the year 2020," she said.
Mrs Obeng-Dapaah made this known when she appeared before Parliament to answer questions posed by some Members of Parliament (MP) concerning her ministry.
The MP for Sefwi Wiawso, Mr Paul Evans Aidoo, had asked the Minister the extent of depletion of forest reserves and whether the country could boast of forest reserves by 2020 if the trend of depletion continued.
Mrs Obeng-Dapaah attributed the depletion of forests to excessive slash and burn agricultural methods, wildfires, encroachment by cash crop farmers and illegal logging, chainsaw activities and surface mining.
She explained that it was to reverse that trend that the government introduced governance measures and best practice forest management prescriptions, with the support of communities and civil society organisations, to ensure effective protection of the country's forest cover.
Answering another question from the MP for Pru, Mr Masoud Baba Abdul-Rahman, who enquired about when the removal of tree stumps from the Volta Lake would begin, Mrs Obeng-Dapaah said the agreement for the removal of the stumps was signed in February 2006 between the government and a company called Sustainable Resource Developments Ghana Limited.
She said since the agreement was signed, a number of activities, such as the preparation of environmental and social impact assessment, have been carried out to enable the company to obtain the necessary permits to commence operations.
Mrs Obeng-Dapaah explained that an environmental permit was expected to be issued next month, after which a Forestry Commission permit would be issued to enable the company to begin with the harvesting of the tree stumps.
For his part, the MP for Sefwi Akontombra, Mr Herod Cobbina, asked the minister about the plans that the ministry had to release land for the expansion of communities such as Wansampobreampa, Attakrom, Krokowa, Betenase and Kwasiakrom, which were within forest reserve lands in the constituency.
Replying, Mrs Obeng-Dapaah explained that the four communities were located on the fringes of the Sui River Forest Reserve in the Sefwi Wiawso Forest District and not within the reserve.
She stated that although the issue of the expansion of communities into the gazetted forest reserves was not possible, the Forestry Commission was addressing the livelihood needs of the people in those communities by giving them gainful employment in terms of boundary cleaning, fire protection, seedling production and tree planting.