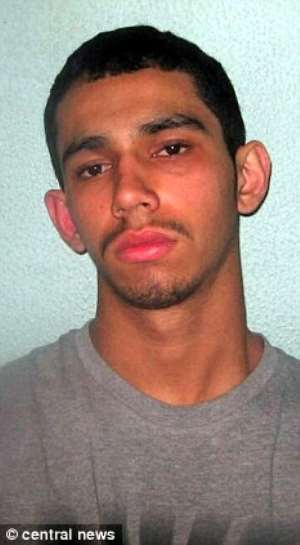 Jailed for life: Ahmet Gomulu stabbed 16-year-old Nassirudeen Osawe to death in broad daylight after claiming the teenager was looking at him
A teenager who stabbed a schoolboy to death just for looking at him in a busy high street was locked up for life today.
Ahmet Gomulu, 18, laughed as he knifed 16-year-old Nassirudeen Osawe through the heart in broad daylight at a bus stop.
Nassirudeen, an A-level art student known as Nass, was the 27th teenager to be killed on the streets of London last year.
He was just five days short of his 17th birthday and was on his way to the West End with his friends to buy a cable for an X-Box games console.
But as he waited for a bus at Angel Islington in north London, Gomulu confronted him and said: 'Why are you looking at me, why you screwing me?'
Nass, described by his hairdresser mum, Fulera Idriss, as 'every mother's dream of a son', was stabbed twice and collapsed and died in the street on December 27 last year.
Gomulu, who also stabbed Nass' 17 year-old friend, was told he would serve at least 12 years behind bars for the murder.
The Recorder of London, Judge Peter Beaumont QC told him: 'You took a knife first of all on to a bus and then when you got off that bus, into a crowded public place.
'There was no possibility of any threat to you existing in those circumstances which would justify you in doing so.
'In response to a wholly imagined slight that you perceived you had suffered, you used that knife.
'There is only one sentence and that is detention during Her Majesty's pleasure.'
The judge also sentenced Gomulu to five years concurrent for wounding with intent for the attack on Nass' friend, Aaron.
Mum Fulera Idriss (left) described Nass (right) as 'every mother's dream of a son', and urged all youths to put down their knives and respect each other
Nass' mother Fulera Idriss was in court for the sentence along with other family members.
She had earlier said: 'Nothing can bring back our beloved and precious son, brother and friend.
'His passing away has caused unbearable pain and suffering. Justice has been done. We urge all youths to put down their knives and respect each other and most of all respect life.'
Nass, head of year at nearby St Charles Catholic Sixth Form School and former pupil at St Aloysius College, had been at home in Grosvenor Road, Highbury, with his two friends when they decided to go shopping.
They had just got off at the The York public house in Upper Street at around 2.30pm to change buses when they were attacked.
Prosecutor Ed Brown QC said it was 'an altercation born out of the most petty of events'.
'The sad reality is had this defendant not been carrying the knife as the Crown say he was then Nass Osawe would be alive today,' he added.
'Nass Osawe and two friends were in Angel Islington waiting for a bus and no more.
'The defendant was there also, he had just got off a different bus and suddenly without reason the defendant accused them of looking at him. The parties were strangers to each other.
'They asked what he was talking about and the defendant's reaction was to take the knife he was carrying from his pocket and flick it open.'
'One of Nass's friends tried to calm the situation saying 'what do you think you're doing this is Angel, put that thing away' but was stabbed in the side of the chest close to the ribs.
Nass and his friend then picked up chairs from a nearby pub and traffic cones to throw at the attacker.
'He (Gomulu) chuckled or seemed to laugh and he flicked the blade of the knife out with his wrist towards Nass,' said the prosecutor.
The victim was stabbed twice - once in the leg and once through the heart.
Gomulu fled the scene but was arrested three days later and claimed the three boys had pulled out a knife and demanded his Staffordshire bull terrier.
Gomulu, of Howard Road, Stoke Newington, north London, was convicted of murder and wounding Nass' 17-year-old friend, who cannot be named, with intent.
Nass's death bears a striking resemblance to the murder of 14-year-old Martin Dinnegan in nearby Axminster Road, Islington, in June last year.
Martin, a pupil at St Aloysius College in Highgate where Nass had attended, was stabbed by 16-year-old Joseph Chin over a 'dirty look' on a bus.
Last month Chin was jailed for life at the Old Bailey and will serve a minimum of 12 years.