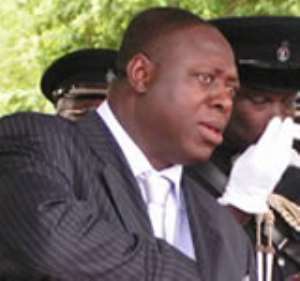 The Inspector-General of Police (IGP), Mr. Patrick Kwarteng Acheampong has stated that Ghana will not burn during and after the December elections because the police have prepared adequately to forestall any such event.
Speaking at a ceremony to inaugurate two completed housing flats for Police personnel in Cape Coast on Tuesday, Mr. Acheampong noted that with the kind of security measures put in place purposefully for the elections, nothing will happen before, during and after the December 7 general elections, as is being feared by many Ghanaians.
He has, therefore, appealed to Ghanaians to avoid acts that will lead to violence in the impending polls so as to have peaceful elections.
The IGP proposed a fund for the security personnel, which should be nurtured to help in the provision of infrastructure for police officers to address some of the major problems facing the service, including accommodation.
He disclosed that over GH¢ 1 million was spent on hotel bills for police officers throughout the nation because of accommodation problems, adding that the number of Police personnel who passed out from the Universities makes high demand for accommodation.
He revealed that four flat blocks have also been established in the Volta region, six in the Northern region and eight in Ashanti Region to help minimize the accommodation problem facing the Police service.
The Central Regional Minister, Nana Ato Arthur, who was the chairman for the occasion, stressed on the need for the establishment of a security fund to undertake infrastructural projects for security personnel and commended the Police personnel in the region for their hard work.
He appealed to the IGP to help them finish other uncompleted flats to enable the Police in the region to have access to decent accommodation.
Credit: The Chronicle