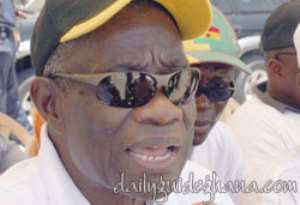 The National Democratic Congress (NDC) parliamentary candidate for Tema East, Robert Kempes has been arrested by the Police over an altered cheque for US$147,034.09.
Currently on bail, Robert Kempes Ofosuware, an accounts officer with the Electricity Company of Ghana (ECG), is assisting the Criminal Investigations Department (CID) of the Ghana Police Service in their investigations into a complaint by a certain Emmanuel Sowah Obo-Nai, a banker with the Trust Bank Limited.
The accomplice of the parliamentary candidate, a certain Clifford Amoako Addo, Managing Director of Jam Shipping Agency at Tema is on the run.
According to the facts of the case, on 8th March 2007, Jam Shipping Agency, through its Chief Executive Officer, lodged a General Motors Corporation cheque number 002305074 valued at US$147,034.09 drawn on Chase Manhattan Bank, New York, payable to Robert Kempes Ofosuware, the first accused.
The cheque was credited to Jam Shipping Agency accounts with 28 days to mature for collection.
It was cleared thereafter on 16th April 2007 but a year after the transaction, on 6th May 2008, the bank was notified by Deutsche Bank Trust Co. Americas, New York, that the cheque in question was altered and therefore the bank's account had been debited.
When the Police was notified an investigation which followed led to the arrest of the NDC parliamentary candidate, the first accused, who admitted receiving the altered cheque written in his name on behalf of Clifford Amoako Addo, the second accused, whom he described as his friend.
He stated that the second accused had at the time told him that he was embarking on a trip to Nigeria scheduled for the early part of 2007.
Continuing, he stated that the second accused was expecting a cheque from a friend by name Richard who works with General Motors in the United States of America and had asked that the cheque be issued in his (Robert Kempes') name.
When the second accused returned from Nigeria, he went on, he received the altered cheque which Robert Kempes was made to endorse.
Investigation is still going on.
Kempes will appear in court tomorrow, Thursday.
By A.R. Gomda