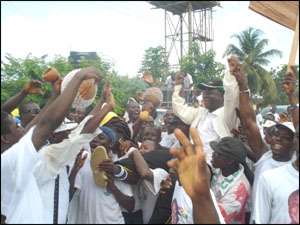 MEMBERS of the New Patriotic Party (NPP) in the Ellembelle constituency last Sunday joined their Convention People's Party (CPP) counterparts and jointly campaigned for Freddie Blay, First Deputy Speaker of Parliament, who is contesting to be retained as the constituency's Member of Parliament (MP).
The campaign, which was in the form of a keep-fit exercise in some towns in the constituency, saw members of both parties parading the streets in their respective party T-shirts and other paraphernalia alongside drumming, dancing and singing in praise of Mr. Blay, the CPP legislator and Nana Akufo-Addo, the presidential candidate of the NPP.
Both parties also had their respective campaign pick-up vans, equipped with out-door broadcast equipment through which they preached the virtues of both candidates and called on the electorate to vote for Mr. Blay at the parliamentary level and Nana Akufo-Addo at the presidential level.
Almost throughout the constituency, the popular phrases on the lips of the electorate were the "we are moving forward" slogan of the NPP and "Ellembelle Blay, no Shakay".
Mr. Blay, to the admiration of many, joined the youth in jogging from one town to another amid the controversial 'kangaroo' dance and loud techno, blasting out of huge speaker-boxes fitted on the campaign vans.
In an address, Freddie Blay thanked the electorate for the confidence reposed in him during the past years, and called on them to further support him to move the constituency forward.
The electorate, on their part, said they wanted to see more of him, with some of them requesting for employment opportunities.
A number of the electorate from both parties that DAILY GUIDE spoke to expressed joy that Mr. Blay won the recent court case in which he dragged the CPP leadership to court following a decision to nullify his election as the party's candidate for Ellembelle.
The joint campaign was the first since the NPP officially decided not to contest the seat but to rather throw its weight behind Mr. Blay.
By Halifax Ansah-Addo