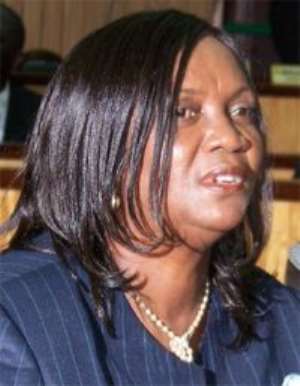 The Chief Justice, Mrs Georgina Theodora Wood, has barged magistrates to uphold the integrity of the judiciary at all times.
She said members of the bench were expected to be men and women of impeccable charter.
Swearing in 18 new career magistrates who have successfully completed a two-year course of study at the Ghana School of Law in Accra on Tuesday, the Chief Justice stated that integrity was key judiciary value and when that was compromised, public confidence in the judiciary was eroded.
She announced that a new scheme whereby senior members of the bench would study and evaluate judgements of the lower courts had been instituted.
Mrs Wood said the scheme would be a useful way of monitoring the progress of magistrates by measuring their output and performance, adding that another benefit of the scheme was to find out• the weaknesses of the lower courts so that the judges would assist in addressing those difficulties.
She cautioned them not to turn themselves into debt collectors for litigants who appear before them because the rules of the court system had adequate provisions for protecting aggrieved persons.
"Do not go beyond the dictates of the law to please anybody; your provenance is to determine the facts and apply the laws to the findings of fact. And do not become embroiled in the personal lives of litigants who appear before you as this has the effect of undermining institutional integrity", she said.
The Chief Justice indicated that courtroom etiquette and decorum were crucial to the very survival of magistrates on the bench and it was absolutely important for utmost courtesy to be extended to all who appear before them, especially members of the Bar.
Mrs Wood urged the magistrates to exercise the greatest restraint even under the most provocative circumstances during the course of their duties, adding that "war of words between magistrates and counsels or litigants and the misuse of coercive powers should be the last weapons you should deploy in the courtroom".
She expressed the hope that the new career magistrates would make significant contributions to the Ghanaian judiciary and assured them that the older members of the Bench were always available to give them the support, encouragement and any assistance they may need in the course of their duties.
Justice Professor A. K. Kludze, Director of the Career Magistrate Programme, said the course was instituted by the late Chief Justice Acquah and it involved both academic and practical training.
He said the policy was to ensure the highest standards and that its success would depend on the magistrates.
He said the work of the Bench was very difficult but they had been wel1 equipped to take up the challenge.