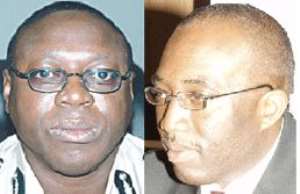 Police prosecutors across the country have been given a 14-day ultimatum to renew the expired warrants of remand prisoners or face disciplinary action.
The warrants for more than 300 remand prisoners at the Nsawam Medium Security Prison alone have expired, with some of the prisoners having been on remand for several months without any court appearance.
The ultimatum, which takes effect from today, Wednesday, October 22, 2008, was jointly given by the Attorney-General and Minister of Justice and the Inspector-General of Police (IGP).
According to the Attorney-General and Minister of Justice, Mr Joe Ghartey, his outfit would take steps to ensure that remand prisoners were released on bail if police prosecutors did not take steps to renew their warrants within the given period.
Section 169 (2) of the Criminal and Other Offences (Procedure) Act 1960, Act 30, as amended by Section 17 of the Criminal Procedure Code (Amendment) Act 2002, provides that "a court shall not adjourn a case for more than 14 days where the accused person is on remand".
Mr Ghartey said as a result of the Remand Review Project, a component of the Justice For All Project, it had become obvious that some warrants of remand prisoners had expired.
He, therefore, directed the Director of Public Prosecutions and all regional heads of the Attorney-General's Office to monitor the exercise.
They are expected to report back to the Attorney-General at the end of the deadline.
A report submitted by the Centre for Human Rights and Civil Liberties (CHURCIL), a partner in the Justice For All Project, stated that more than 300 remand prisoners were still being held at the Nsawam Medium Security Prison, in spite of the fact that their warrants had expired.
According to CHURCIL, documents on more than the 300 affected prisoners and those of 300 others could also not be traced, after its officials undertook a six-month check on prisoners at the Nsawam Medium Security Prison.
CHURCIL is working in collaboration with the Attorney-General's Department and other agencies under the Justice for All Project.
The Justice for All Project was launched by Mr Ghartey on September 27, 2007.
More than 56 prisoners have been freed since the inception of the project, which is aimed at bringing justice to the doorstep of all citizens, especially the vulnerable in the society.
Story by Mabel Aku Baneseh