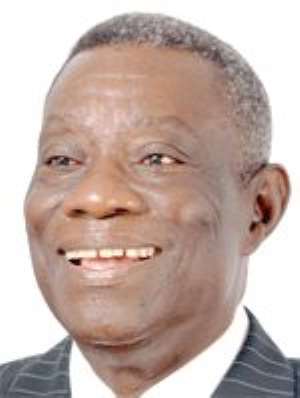 The Presidential candidate of the National Democratic Congress (NDC), Prof John Evans Atta Mills, has said Ghanaians will never return the NPP to power on December 7.
He said the signs were clear that the days of the NPP government were numbered and that come the election day, the voters would elect him as President.
Prof. Mills said this when he addressed party supporters at a rally at Bekwai on Sunday as part of his one-week tour of the region.
Accompanied by Mr Ohene Agyekum, Regional Chairman of the party, Prof Mills and other executive members of the party also addressed a rally at Kuntanase.
At Bekwai, Prof. Mills reiterated the party's determination and confidence to win this year's general election to enable the party to pursue its development agenda.
He said a lot of the youth in the country were suffering due to lack of employment which was as a result of the bad policies of the NPP administration.
He said the country could only develop with dedicated, selfless and committed leaders, and this was where the NDC with its honest and passionate leaders was the best political party to lead the nation.
Prof. Mills assured the nation of the party's position to ensure peace in the elections, and expressed the NDC's appreciation to the police and military for their neutrality so far in the electioneering.
The NDC presidential candidate said his government would ensure good service conditions for the security services to boost their moral.
Madam Ama Benyiwa Doe, the National Women's Organiser of the party, accused the NPP government of mismanaging the economy and not being fair in the sharing of the national cake.
She called on Ghanaians to learn from their mistakes and vote out the NPP government from power.
Alhaji Amadu Kasina, Chief of Bekwai Zongo, accused the NPP government of being the cause of the poor development nature of the zongo communities.
At Kuntanase, Nana Appiah, the Akyeamehene, called on the NDC to support the community in constructing a technical school to enhance skills training for the youth in the area when it was elected.
Story by John K. Essel.