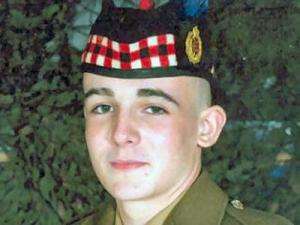 A 16-year-old boy stabbed to death outside a youth club by a gang of up to 15 teens has been named
Army cadet Joseph Lappin was with two friends, both aged 17, outside the Shrewsbury House Youth Club in Everton, Liverpool, on Monday night.
They were confronted by the gang and attacked after a short chase on foot.
Joseph, from Old Swan, suffered fatal stab wounds. One of his friends was also stabbed but his condition is not considered life-threatening. The third boy suffered minor injuries.
Two teenage boys were arrested on suspicion of murder close to the scene soon after the incident took place outside the youth club in Langrove Street at 8.40pm.
But detectives said the main perpetrators may still be at large. Chief Superintendent Steve Watson said: "The three victims had gathered outside the front of the club and were approached by a sizeable group of youths, about ten to 15 in strength.
"The youths, without provocation, proceeded after a short footchase to attack the three individuals. "We believe there were two main offenders among the group of youths.
"There were 60 youths in the youth club and we have already started to build up a picture of what happened.
"A number of people are helping with inquiries but there are also a number of people on the periphery of this incident that we want to speak to."