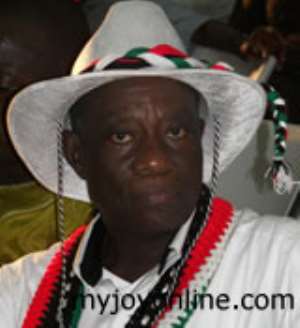 Prof. John Evans Attah Mills, Presidential hopeful of the National Democratic Congress (NDC) has promised to institute a buffer stock management to ensure food security for all Ghanaians, if voted into power in December.
He said his government would buy food crops from farmers in periods of glut for distribution to the populace in the lean season.
This he said, would restore confidence in farmers and safeguard their livelihoods.
"When the yams are getting rotten on the farms, you have to find some money, buy them, store and in the lean season you sell it to recover the money." He noted.
In an exclusive interview with Joy FM correspondent Steven Anti, who has been monitoring the NDC campaign, Prof. Mills attributed the surging food prices to the neglect of agriculture by government.
"We must make sure we increase agriculture production, provide inputs, give necessary motivation for farmers."
"What we need is the will and determination to do it, and not just to talk about it."he added
Prof. Mills who has been campaigning in Kumasi over the week-end was optimistic of winning the December poll, saying "the people have made their comparisons and have drawn their conclusions to vote for the NDC."
Author: Nathan Gadugah