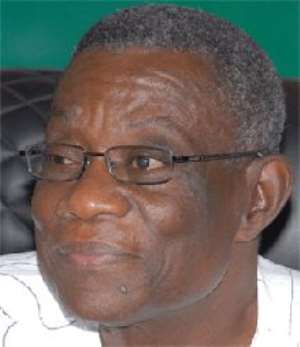 The presidential candidate of the National Democratic Congress (NDC),Prof. J.E.A. Mills, has promised to make teaching one of the country's most attractive professions when he wins the December 7 elections.
He expressed regret that today a number of people who entered the profession used it as a stepping stone to other areas because of the unattractive conditions of service, and promised to change the situation for the better.
Prof. Mills stated this when he addressed students of the Akrokerri Traning College at the weekend as part of his tour of the Ashanti Region.
Accompanied by some party officials, Prof. Mills said the NPP government had failed teachers but indicated that good days were ahead under his presidency.
He pointed out that governance was not about empty promises but serious work.
"This is where the NDC stands tall above its competitors", the Professor said.
He called on the youth not to allow the poor policies of the government to force them to throw up their arms in despair.
The NDC presidential candidate told the gathering that they only needed to vote massively for the party so that it would form the next government to implement the laudable programmes and policies.
Prof. Mills had so far been to the New Edubiase, Adansi Asokwa and Fomena constituencies, where he addressed mini-rallies in the communities.
At New Edubiase, where he kicked off his one-week tour of the Ashanti Region, he expressed strong conviction that the party would make a great impact in the region in the December elections.
He said the NPP would be making a big mistake to believe that the Ashanti Region would fall for it again.
The NDC presidential candidate stressed that the NDC was out to match the NPP boot-for-boot for the votes.
New Edubiase is one of the three constituencies the NDC won in the Ashanti Region in the 2004 elections.
The Professor said the crowd that met him was indicative that the NDC had grown in the region.
He said agriculture was dying in the rural areas because of poor policies, and noted that a government of the NDC would move to introduce mechanised farming.
Prof. Mills said to deafening cheers that," our farmers deserve better and this is what I promise you when I become president".
He said instead of admitting their mistakes and telling the people the truth about the state of the nation, the NPP government was using personal attacks on him as a way of addressing their waning support.
He pointed out that the people were wide-awake and could easily read through the lines to know the tricks of the NPP.
He urged the people to vote on the election day without any fear, and vote massively for him and the NDC parliamentary candidates.
In every community that he visited, Prof. Mills introduced the NDC parliamentary candidates for the in the respective constituencies to the people.
Story by Kwame Asare Boadu.