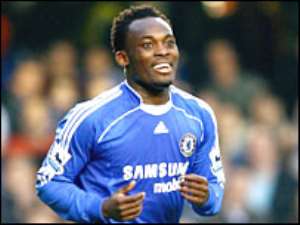 Essien is vying for the top award For the first time the Confederation of African football (CAF) will hand out cash prizes to the winners of the continental body's annual awards. 
The move is part of Caf's efforts to entice Africa's top players to attend the event which has been snubbed by several player in the past.
Last year's event was marred by Didier Drogba's absence which prompted the award to be given to Malian Freddy Kanoute which sparked wild protests.
Sulemana Habuba, CAF Director of Communications told GNA Sports that the top three for the flagship award, Best Player of the Year, and other categories will receive some substantial amount of money.
Even though he was tight-lipped on the exact figure, he described the package as reasonable and befitting their status.
"CAF will give a reasonable amount of money to the final three for the flagship award. There will also be special prizes for the winners in other categories," Habuba said.
Habuba also expressed optimism that this year's award will de devoid of controversies and assured of the presence of the shortlist of winners for each category at the Awards Gala.
Ghana's midfielder Michael Essien has been short-listed for the flagship, Glo-CAF Best Player Award across the World together with Togolese striker Emmanuel Adebayor, Egyptian duo, Mohamed Mohamed Aboutreika and Amr Zaki as well as Didier Drogba of Cote D'Ivoire.
It is the third successive time that the Chelsea star who was out due to injury till next February has been short-listed for the prestigious individual honour in African football.
Angolan striker Flavio Amado, Mohamed Mohamed Aboutreika, Ahmed Hassan, all of Egyptian giants, Al-Ahly, Stephen Worgu of Enyimba and DR Congo striker Tresor Mabi Mputu make up the shortlist for the new created Glo-CAF Best Player on the Continent.
The coaches of the 53 national associations affiliated to CAF will vote on the Glo-CAF Best Player across the world whilst the coaches of the eight clubs of the group phase of the CAF-MTN Champions League vote on the continental award.
The final three for the two categories will be announced before the Awards Gala fixed for Cotonou, Benin in December.
Former Black Star players, Ibrahim Sunday, Abdul Karim Razak and Abedi Ayew Pele are the only Ghanaian winners of Africa Best Footballer award since its inception.