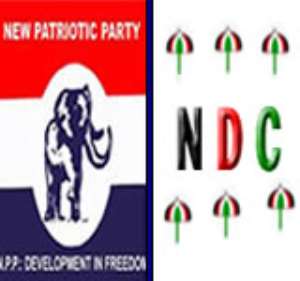 The Central Regional Branch of the New Patriotic Party has rubbished recent opinion polls by the Daily Dispatch newspaper that predicted victory for the opposition National Democratic Congress in the region, ahead of the December elections.
According to Kwamena Duncan, the NPP's General Secretary in the region, the results were likely to give the NDC false hopes, since it contradicted the true situation on the ground.
Duncan, in a report filed by Joy News correspondent Richard Kojo Nyarko, described the polls as pure fabrication and called on the publishers of the newspaper to desist from such publications.
"They want to be seen as credible pollsters, and they don't come to the ground and do proper research, they sit down and conjure figures and come out to publish figures, if you do that, you give an undeserved victory to the NDC."
He said such false results would be a recipe for chaos considering the many wild allegations put out by the NDC against the Electoral Commission and the NPP.
"If there are allegations that the NPP is colluding with the EC to rig this year's election and you have a newspaper coming out with this false hopes it then dovetails into the NDC agenda and that could be dangerous for our democracy."
But Editor of the Newspaper, Ben Ephson says his polls are credible and untainted.
In his response to Joy News, Mr. Ephson asked his critics to be tolerant and wait for the results on December 10.
"I don't think he loves the Dispatch and my credibility than myself," He added.
He wondered how long Duncan had been in politics to insinuate that the Daily Dispatch's polls were unreliable, reminding him to refer to what the paper's predictions were before the 2004 elections and what the actual results were after polling.
Story by Nathan Gadugah