Prez Inaugurates Centre For Treatment Of Cancer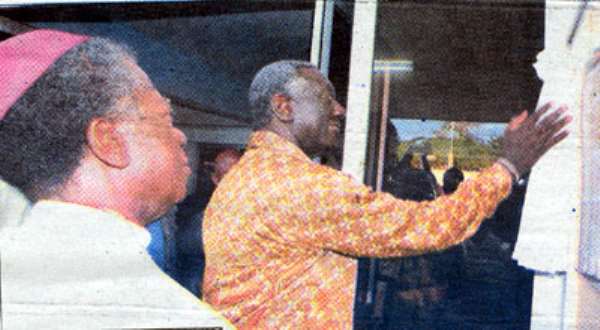 President Kufuor unvailling a plaque to decide the inauguration of the HopeXchange Medical Centre at Christian Village in Kumasi. With him is Most Rev. Thomas Mensah, Metropolitan Archbishop of Kumasi A specialised centre for the treatment of cancer, facial malformation and infection disease in Kumasi has been inaugurated by President John Agyekum Kufuor.
The HopeX-change Medical Centre will become operational in 2009 and it will be used as a regional facility for continuing medical education in collaboration with the Ghana College of Physician and Surgeons.
The 130 bed-capacity hospital, estimated at $25 million is a joint initiative of the Catholic Church of Ghana, the Ghana Mission Foundation of the Republic of Malta and HopeX-change, an international humanitarian organisation.
Other collaborators in the project include the Catholic University of Rome Medical Centre, Susan G. Komen for the Cure, the University of Innsbruck Medical Centre, Operation Smile, the Breast Health Global Initiative, the Ghana Health Service, the Okomfo Anokye Teaching Hospital and the Catholic Archdiocese of Kumasi, which donated the 6.15 acres of land for the project.
The centre will also house the first interactive learning laboratory of the Breast Health Global Initiative, where doctors and scientists from around the world will share critical information on early detection and treatment of breast cancer in the country.
Breast cancer is gradually becoming a health concern in the country and nearly 70 per cent of Ghanaian women diagnosed with breast cancer are said to have advanced forms of the disease, which are difficult to treat.
Inaugurating the hospital, President Kufuor said it will be a great asset for the people of Kumasi, the Ashanti Region and the nation as a whole.