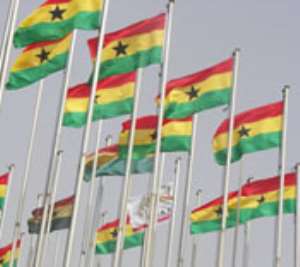 Ghana can maintain a reasonable amount of independence and determine its own affairs in spite of her size and capacity through a strong dynamic African Union.
This is a question which should occupy Ghana's political parties at this crucial time in our history. How independent is the small country of Ghana in the global village? And can we really determine our future? How far are the promises of the parties and politician's mere wishes?
Scott Thompson in his book "Ghana's Foreign Policy" written in 1969 observed that "The acquisition of nuclear weapons by the great powers and the independence of some 50 territories which have become minor but sovereign actors in world politics has transformed the character of the international system in the course of the past quarter century".
With the collapse of the Soviet Union, the transformation of the international system has been more rapid and has assumed a character which tends to marginalise the minor actors on the world stage.
The tendency to marginalisation was discernible even at the outset when these minor actors burst on to the world stage. Well, Kwame Nkrumah had warned about the dangers of neo-colonialism.
Nkrumah sought to contain neo-colonialism and maintain the sovereignty of Ghana through international groupings and African unity. He tried to maintain that independence which would enable the nation to determine its own affairs through active membership of appropriate international organizations and by urging African countries to come together to promote their national interests.
The non-aligned movement is no longer relevant but association with countries of similar interests and problems will enable Ghana to promote her interests and enlarge her influence. More importantly in this regard is the African Union.
Ghana can maintain a reasonable amount of independence and determine its own affairs in spite of her size and capacity through a strong dynamic African Union. In other words, Ghana can better exercise the attributes of sovereignty through a vibrant African Union.
We should therefore ask our political parties what role they would assign to the African Union. Unfortunately many, perhaps most of our educated people, do not take the African Union seriously. It is to them an institution for occasional colourful jamborees. Many are suspicious of it because an African Union was championed by Nkrumah whom they did not like. The derision of many is justified - in their sight - by the effective dynamic role which Col. Gadaffi of Libya assumed within the organisation.
But are we to be so mentally subservient that we dismiss any good thing the Libyan leader does simply because his Western detractors do not welcome it? Why was the European Economic Community established? Why is it now the European Union? And why does it want to enlarge itself. Is there a future for the small African states of the continent outside unity?
If we understand the determinants of effective sovereignty and the necessity of African unity, then we must use the African Union to increase Ghana's influence in the global village. Our political parties should therefore tell us that they will take foreign policy seriously. They should move away from the recital of clichés - adherence to the principles of the United Nations and the Commonwealth, etc. etc. - important as these are. Our government to come should undertake not to reward party supporters with ambassadorial and similar posts. A handful of seasoned politicians may be appointed to a few posts, but most major missions should be manned by experienced competent hardworking professional diplomats.
I have worked with non-career heads of mission who were very good. But the stories of their behaviour have not all been flattering. There was the fairly recent story of one ambassador who attended a dinner in his honour. The wife who accompanied him was in a "see-through" frock. When he had eaten to his heart content, the ambassador relieved his feet of his shoes, leaned back in his chair and began to snore. Even if the ambassador was a clever diplomat such behaviour would make it impossible for him to practice diplomacy effectively.
It is not only outside Ghana that we should promote activities to make our sovereignty real. Self-reliance at home is important. Self-respect and self-confidence are absolute pre-requisites. We may receive aid but we should not allow aid to make us subservient.
We cannot be that independent when our budget is balanced by aid, budget support or whatever euphemism we cloth that which in effect greatly limits our freedom of action. The people should demand their self-respect and decide not to vote for a party which would take action that would unnecessarily undermine our sovereignty.
We should plan to live and develop within our capacity and resources. We show our immaturity by engaging in popular projects or measures which we cannot accomplish without foreign aid which often consumes much of our limited managerial capacity. Foreign aid should enable us to do what we want to do more quickly. It should not deflect us from our plans or determine our needs and priorities.
The psychological effect of dependence on foreign aid can be pathetic. The other day, some foreign nationals accompanied by Ghanaians on sight-seeing passed around the new American Embassy. One of them took photographs. On their way back they were stopped by a police dispatch rider who took them to the American Embassy. They were interrogated for disobeying the notice of "No photographs". Now, if a Ghanaian offends the law should he or she be taken to a foreign embassy or to our police station?
To the Ghanaian policeman and some other Ghanaians on the scene, there was nothing unusual in what happened. Well, may the proud, self-respecting citizen ask.
"Is Ghana a sovereign nation?"
Credit: K.B. Asante