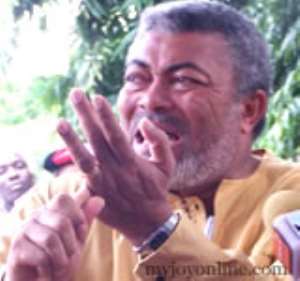 Former President Jerry John Rawlings on Saturday launched the National Democratic Congress (NDC) political campaign in four constituencies in the Sekondi-Takoradi Metropolis at Sekondi.
The constituencies are the Sekondi, Takoradi, Effia-Kwesimintsim and Essikadu-Ketan constituencies.
He called on Ghanaians to unite irrespective of their ethnic, religious, economic and political backgrounds and vote the NDC to power to build a strong nation.
He said the aim of the NDC is to build a prosperous nation free from deprivation, disease and economic hardships.
Former President Rawlings said the time had come for the people to stay united and have a sense of vision and purpose.
He said the NDC left a legacy of job opportunities, made Ghanaians first class citizens and enabled them to afford rent and decent meals but the New Patriotic Party turned these legacies upside down and made Ghanaians fourth class citizens.
Former President Rawlings said the people lost their power when they voted for the NPP and as such, they must not make the same mistake again.
He said the soul of the country must return on December 7 and usher the country into a new era adding, "December 7 should be the day to liberate the country from the NPP".