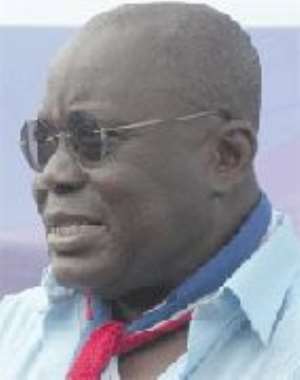 The Chairman of the Northern Youth for Nana Akufo-Addo, (NOYONAA), has called on the youth of the North to vote massively for the NPP presidential candidate and the party to bring about the needed accelerated development of the North as outlined in the NPP manifesto for Election 2008.
Mr Iddrisu Abdulai reiterated the vision of Akufo-Addo presidency which is to transform the economic fortunes of the North into an ECOWAS food basket through agro-based industrial development.
Mr Abdulai who made the call when the group paid a working visit to the NPP flag bearer to brief him on the progress of their activities at his office, said he was convinced that that was the clearest opportunity for them, to bring about a Northern economic renaissance.
The group included the National Organiser, Mr Peter Nab Atindem, and the Liaison Officer, Mr A. A. Rauf.
As an industrialist, Mr Abdulai noted that the proposed Northern Development Authority and the Northern Industrial Development Fund were the Marshall plan that the North had waited for all these years to unleash its true economic potential and the enterprise of its people for the needed bridge in the north-south economic divide.
NOYONAA, an affiliate of Friends of Nana Akufo-Addo (FONA), is dedicated to galvaning the youth of the three Northern regions to champion the message of the NPP and its flag bearer for the December 2008 election.
In welcoming the group, Nana Akufo-Addo expressed his delight at the level of success chalked up so far by the group in its campaigns and promised that the vision of the NPP for the North would be a reality should he assume office in January 2009.
He admonished the group to carry out its campaign with a message of peace and unity as these formed the bedrock of any future effort to realise his vision for a prosperous North.
The NPP flag bearer pledged his total commitment to all legitimate cause of youth groups that would seek to consolidate the gains by the Kufuor administration and expressed the hope that the youth of the North would reciprocate the gesture of the NPP and vote massively for it come December 2008.
The group, scheduled to formally launch its campaign programme on October 25 to 26, 2008 in Tamale, presented its operational guide for Election 2008 to the NPP flag bearer.