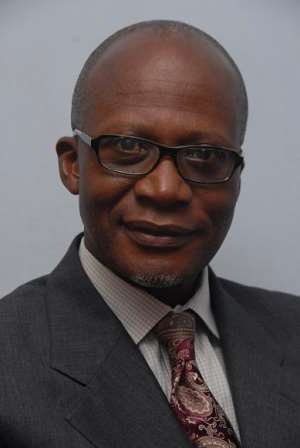 The only independent presidential candidate in this year s general elections, Kwesi Amoafo-Yeboah
The only confirmed independent presidential candidate in this year's general elections, Kwesi Amoafo-Yeboah has noted that the contribution of President John Agyekum Kufuor and Ex-President Rawlings to the growth of Ghana's democracy cannot be underrated looking at the continent as a whole.
According to Amoafo-Yeboah, Rawlings proved his commitment to democracy in the 2000 elections when he handed over power to an opposing party though he could have proved otherwise.
"I salute you, President J.J. Rawlings. In December 2000, you presided over a run-off election between your own party, the NDC, and the NPP. There was a moment of uncertainty, but, you exhibited courage and magnanimity to see our dear Ghana handed over, in peace, to the rightful winner in that elections. History will be the judge", noted Amoafo-Yeboah.
He also acknowledged President Kufuor's contribution towards deepening Ghana's democracy. He noted that, had it not been President Kufuor's commitment to improving on governance and democracy, people like him will not have the opportunity to contest for presidential elections as independent candidate.
"I salute you, President J.A. Kufuor. In your 8 years in office, we have seen the contribution you have made towards nurturing our young democracy and deepening the freedoms that we all take for granted today. Your contribution has made it possible for this moment to be realized. Your contribution has made it possible for people like me to participate in discussions towards charting a course for the development of our nation".
According to Kwesi Amoafo-Yeboah, despite contributions made by the political parties, his presidency will bring the best brains from all sides of the political divide together to focus all might and power on the challenges Ghana faces. Under his leadership, he intends to enable Ghana's past presidents to play their role as real statesmen devoid of acrimony. In so doing, facilitating conflict resolution.
"My government will eliminate the existing polarization in our nation and hence put our fears of conflict to rest come December 7 when Kwesi Amoafo-Yeboah is declared winner of what has been called a "do-or-die" elections", stated Kwesi Amoafo-Yeboah.
He indicated that the time to change the political atmosphere has come hence a real opportunity for real change by voting for him as president.
"If we do not change our politics, if we do not end the politics of status quo, we will see absolutely no change because "the value will be the same". And, four years from now we will be here again complaining about the same things we have always complained about", noted Amoafo-Yeboah.
SOURCE: CAMPAIGN COORDINATOR
FRANK AGYEMANG