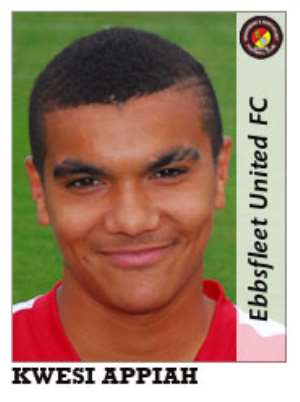 Appiah has been in good form English side Ebbsfleet United have requested an investigation by the Football Association into Peterborough United's move for Ghanaian youngster Kwesi Appiah. 
The young striker, who is a product of the club's youth set-up, has not been in contact the club since playing against Eastbourne Borough on September 23.
This week Peterborough's club website reported Appiah had signed for them on a non-contract basis and would be able to play reserve matches for them. 
Fleet Chief Executive David Davis issued a statement through which said: "We received notification from Peterborough giving, under FA Regulations, seven days notice of approach.
"However we became aware that Kwesi had already been in contact with Peterborough and was training with them, before the seven-day period had been reached.  We immediately reported the matter to the FA as a Breach of Regulations and currently await a response.
"Although we have not yet received any official response, press reports indicate Kwesi has signed with Peterborough on non-contract terms.  Given the time, commitment and development the club invested in the player we are wholly disappointed with his actions and that of Peterborough United.
"The matter is subject to an FA investigation and we will keep members informed on progress as and when we receive guidance from The FA."
Club secretary Roly Edwards confirmed the club have written to the FA and an investigation is underway, but admitted he did not know when a verdict would be reached.
He told Kent News: ?It is out of our hands now, we have just got to wait for a decision from the FA. They are contacting Peterborough to get their side of the story but we feel they have broken the rules. It is a difficult situation.?
For more Ghana football news visit www.ghanasoccernet.com