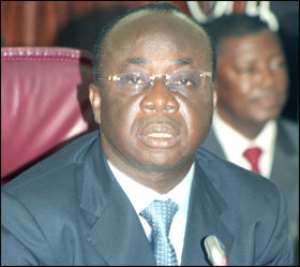 Freddie Blay Ghana Oil Company Limited (GOIL) is poised to increase its earnings to become the market leader in the oil marketing field.
Freddie Blay, Board Chairman of GOIL, at the company's annual general meeting (AGM) yesterday, said the firm will continue to grow and see more positive results in the ensuing years, especially as the nation prepares to start oil production in 2010.
Since it listed on the Ghana Stock Exchange (GSE) in November 2007, the company has seen its price earnings doubling. GOIL is currently trading at GH¢0.39 per share, from GH¢0.20 when it was listed in November.
Analysts predict that the share price will appreciate rapidly from next year, when Ghana will be nearing the age of producing oil.
Hon Blay, also the First Deputy Speaker of Parliament, opined that GOIL will remain committed to enhancing profitability and creating value for investment in the company.
On his part, Yaw Agyemang-Duah, Managing Director of GOIL said the company will implement adequate strategies to ensure improvement in profit and dividend to shareholders.
Regarding the emerging activities in the upstream sector, the oil marketing company is positioning itself to play important roles to the benefit of the firm in particular and the country as a whole, he added.
The industry will continue to witness tough competition as more new entrants are expected to emerge.
However, Mr. Agyemang-Duah said, "It is our view that the deregulation programme will continue to improve availability of products and delivery from the loading points."
He explained that in line with this, GOIL is planning to rehabilitate its storage facilities for petroleum products.
Importantly, the company achieved a pre-tax profit of GH¢5.36 million for 2007, representing an 8 percent increase over the 2006 figure.  In the first half of this year, its profit before tax also posted an impressive gain.
The net after tax profit was GH¢4.04 million compared to GH¢3.48 million in 2006, representing a 16 percent increase.
Earnings per share was GH¢0.019 compared to GH¢0.113, with a total dividend of GH¢1.471 million or GH¢0.007 per share.
By Charles Nixon Yeboah