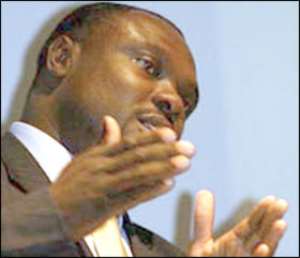 Robert Ahomka-Lindsay  FOREIGN DIRECT Investment in Ghana for the third quarter of this year (July 1 to September 30) amounted to GH¢1.38 billion, an increase of almost seven times what it registered (GH¢175 million) for the same period last year.
This comprised 82 new projects, 60 percent of which are wholly-owned foreign establishments and the rest constituting joint ventures between Ghanaians and foreign partners.
Robert Ahomka-Lindsay, Chief Executive of the Ghana Investment Promotions Centre (GIPC) who made these known to journalists yesterday in Accra when his outfit officially released an update of its third quarter operations, said GH¢407.41 million represented capital goods imported (reinvestments) while GH¢972.10 million was made up of equity transfers for new projects registered and also existing ones.
About 4, 631 jobs are expected to be created from these new projects registered, with 4,151 of the total jobs being taken up by Ghanaians while the remainder would be reserved for expatriates. This brings to 19, 262 the total number of jobs created so far this year.
Though some seven regions of Ghana would benefit from the projects by way of their location, 84.15 percent is concentrated in Greater Accra.
Some 10 countries which blazed the investment trail thus included India (13 projects), Nigeria (10 projects) China (9 projects), France (7 projects), Britain (6) and Lebanon (6). Others are South Africa (5), USA (4), Netherlands (2) and Norway (2).
In terms of value projects the Netherlands led the competition with ($1,287.56m), followed by Nigeria ($257.12m), Luxembourg/Germany/USA ($8.85m), Britain ($7.79m) and France ($3.23m).
Singapore recorded $2.99 million, India ($2.84m), South Africa ($2.32m), USA ($1.14m) and China ($1.02m).
Cumulatively, total new investments since the beginning of this year stands at GH¢2.66 billion involving 227 newly registered projects and a total estimated value of GH¢4.61 billion.
"The arrival of Vodafone in Ghana with a value in excess of GH¢1.2 billion, the establishment of MDS-Lancet Laboratories (GH) Limited, a healthcare delivery company whose project value is over GH¢1.4 million and the arrival of Advans Ghana Savings and Loans Limited in the microfinance sector with an estimated project value of over GH¢8.8 million are manifestations of the keen interest of the international investor community in Ghana," Mr Ahomka-Laindsay stated.
At the global level, FDI recorded $596 billion with Africa claiming $158 billion.
By Samuel Boadi