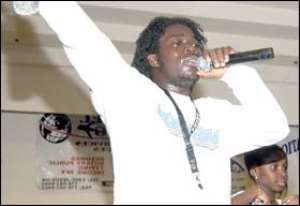 Bice Osei-Kuffuor aka Obuor Bice Osei-Kuffuor aka Obuor, one of Ghana's finest hiplife artistes, has urged the youth in the country to educate the public on the need to sustain peace and stability in the country before, during and after the December elections.
He observed that peaceful elections this year would depend largely on the manner the youth conduct themselves and appealed to them to refrain from acts that would disturb the peace in the country.
The prolific music star expressed worry over how Ghanaian youth had been reduced to tools for violence by politicians and some personalities in society who only see the importance of young people when it is time for elections or there is a dirty job to be done.
Obuor gave the advice when he addressed students and youth associations in Sunyani after a peace walk through some principal streets as part of a peace campaign tour in the Brong-Ahafo region at the weekend.
Students of Twene Amanfo Senior High, Saint James Seminary and Senior High, Sunyani Senior High School, Sunyani Polytechnic and Heroes Inspirational Club of Sunyani as well as some individuals participated in the three-hour walk.
Obuor remarked that most young people joined their peers to engage in violent acts due to ignorance, and expressed optimism that students who participated in the peace campaign would help propagate the message of peace in the communities.
He mentioned that anytime there was civil unrest or conflict, it was the youth who were engaged to perpetrate crime and violence.
The 29-year-old hiplife star opined that Ghana has failed as a state in terms of engaging the energies of the youth for national development.
By George Clifford Owusu