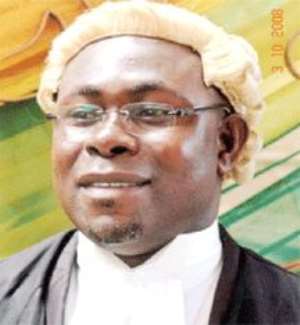 Among the fresh lawyers who were recently called to the bar, after graduating from the Ghana Law School was Ohene Djan, host of the "Democracy" radio programme on Kessben FM in Kumasi.
Djan's foray into the heady world of radio started in 1999 at Radio Univers in Legon where he hosted the talk show, "View Point". He has since been very instrumental in talk shows and current affairs programmes. He is currently a staunch panel member on Kessben FM's morning show, "Maakye" and a host of Saturday evening's programme, "Democracy".
Djan told Graphic Showbiz that it had been his long standing vision to become a lawyer and though he ended up becoming a radio presenter after his first degree at the University of Ghana, Legon, he never relented on his oars and pursued his vision of becoming a lawyer.
So is Djan going to abandon radio for the courtroom? "No I hope to combine my radio work with my law practice", he said.
He explained that he intends to introduce a programme on Kessben FM where matters relating to legal education and others would be discussed to provide listeners with an insight in the law profession.
Djan said he was hoping to start his pupillage for at least six months with a law firm in Kumasi before going into independent practice.
Ohene Djan has worked with Fox FM in Kumasi where he hosted the political talk shows "Hard Ball" and "Hit Back". He was also a panel member on the morning show. The Hard Ball programme won an award in 2002 as the Best Interactive talk show programme at the Radio and Television Awards (RTV).
He moved to Kessben FM in 2004 when the station was set up and had been working there since.
Djan hails from Brekum in the Brong Ahafo region where he attended the Brekum Secondary School for his 'O' level certificate in 1989.
He continued at Technology Secondary in Kumasi for his 'A' level and the University of Ghana, Legon for a degree in Political Science.
After that he did his national service at St Louis Secondary in Kumasi before enrolling at the Kwame Nkrumah University of Science and Technology for a second degree, Bachelor of Law (LLB). From there he enrolled at the Ghana Law School.
Djan, the first radio presenter in Ashanti to have moved into the law profession said he wants to serve as a motivation for his work colleagues to pursue further education and expressed appreciation to his mother, Madam Adwoa Serwaa of Brekum for her support.
Story by Enoch Darfah Frimpong