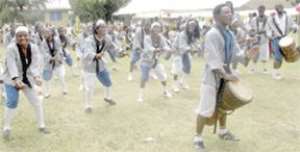 There was a feel of Japan in Accra last Saturday afternoon when the seventh Yosakoi Dance Festival came off at the Efua Sutherland Children's Park.
Fifteen professional and amateur dance groups from all over the country did their best to portray the famous dance steps that originated in 1954 from Kochi prefecture in Japan.
Yosakoi has now evolved from a traditional dance and music festival to one where there are infusions of world music and dance styles.
The participating groups included the Africa Jungle Warriors, Dzanyommo Dance Ensemble, Opense Folk Dance Company, Nyanyira Dance Ensemble, Doja Folkloric Troupe and the Rainbow Cultural Troupe.
Chika Tamura, a well-known Yosakoi choreographer, as well as Mr Keichii Katamami, Japan's Ambassador to Ghana were at the function.
The Yosakoi Dance Festival has been part of Accra's cultural calender since December 2002. Mr Katamami said at the event that the Embassy of Japan, the National Theatre of Ghana and the Ghana-Japan Cultural Foundation noticed that Ghanaians love dance and music and they came up with an idea of introducing the Yosakoi dance to Ghanaians in order to create a unique fusion of Ghanaian and Japanese culture.
"The spirit of the Yosakoi dance aims at enhancing the solidarity and camaraderie of those who participate in it," he stated.
The former Japan Ambassador to Ghana during whose tenure of office and through whose initiative the Yosakoi Dance Festival was introduced in this country, Kazuko Asai, was present and Mr Katamami said it was nice to welcome her back to Ghana.
This year's Yosakoi Dance Festival was significant because it was dedicated to unity and friendliness as the December elections approach.
Though participation in previous festivals had been on competitive basis, this year's groups decided not to compete against each other to emphasise oneness and shared the prize money at stake equally.
Young magicians Senna, 13 and Korku Pele, 11 thrilled the audience with displays that included conjuring items out of a black bag and a variety of vanishing acts.
The main sponsor for this year's Yosakoi Dance Festival was the Kawasho Company of Japan.