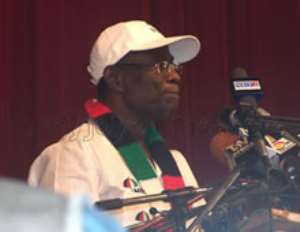 Professor John Evans Atta Mills, Flag bearer of the National Democratic Congress (NDC) on Thursday, declared that offensive wealth would not find place in his government.
According to him, the poor in Ghana now are those who could not deal in cocaine, sell government lands and collect bribes.
He added, traditional values appalled illegal wealth but with time the decay in socio-economic set-up and abject poverty such situation was rather adored
The NDC's, Prof. Mills was addressing supporters at the Okai-Koi North Constituency in Accra.
He said he would honour productive, honest, and hard work that generates wealth through the sweat that was gratifying.
He paid a courtesy call on Nii Boi II, Chief of Abeka, after which he met supporters at the Abeka, Free pipe areas.
He promised to restore pride and dignity into the presidency if he won power. "As a man aspiring to the highest office of the land, I must not descend into loose talk to demean the status of a president."
Prof. Mills said he had forgiven all those who made mockery of his health adding, "It is God that gives and takes life and as far as I am alive I will do the will of God."
He reiterated that the NDC would be a caring government that would not be blinded to the suffering of the people, adding, that the recently launched manifesto of the party would be implemented to the latter if the NDC won power.
He said every aspect of the manifesto was attainable and that with honesty and hard work from his government he did not see how those policies outlined in the manifesto could not be achieved.
These are qualities that created the environment for innovation, creativity and investment, resulting in the generation of genuine wealth and not wealth acquired through dubious and most questionable means.
Prof. Mills thanked the Chiefs and Queen mothers and imams of the area for giving him such a warm welcome and urged the people to vote for the NDC on December 7 to form the next government.
He addressed similar rallies at Achimota and Ashawo market and climaxed it with a rally at La Paz/Nima Lorry Park.
He also toured Nungua, in the Krowor Constituency where he paid courtesy calls on the Chiefs and Queen Mothers of the area.
Mr Ekow Spio Garbrah, a leading member of the NDC urged the people to vote for the NDC since the ruling NPP government had failed to fulfil numerous promises it made to the people.
He said the NDC would not deceive the people and turn round to accuse them for being lazy.
Mr Kweku Eshun, NDC Parliamentary Candidate for Okai Koi North urged the people to vote for him and Prof. Mills to wrestle the seat from the NPP.