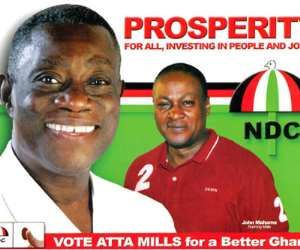 For eight years between 1992 and 2000, the NDC did its utmost best to reconstruct the nation's foundation and build on such a foundation. The opportunity beckons once again for the NDC to seize the moment that a certain victory in this year's election will bring to our great party to put Ghana back on its reconstructive path and work towards building a Better Ghana.
"A Better Ghana" because the current rulers have failed us miserably. In the areas of the economy, employment, the environment, health, education, the utilities – you name it – failure is the best mark that can be given to the NPP government. Allowing the market forces free and unrestrained reign to give direction to our development agenda has failed to give employment to willing workers, leaving a nation grappling with a large section of its population very despondent.
Life under the NPP government is demanding from the unemployed and the wage-earner the surrender of their hard-won standards of living. It is restricting and abandoning those social services which are essential features of a democracy. Those currently in charge of managing the affairs of state have certainly not done a good job of it in spite of their claims that the economy is on track.
The facts and figures paint a very bleak picture of an economy that is not on track. A recent WHO Report ranked Ghana as the second filthiest nation in West Africa and the fourth filthiest in Africa – failure.
After the NDC Government had virtually eradicated the guinea worm disease by the end of 2000, Ghana is currently ranking second behind war-torn Sudan in terms of guinea worm infestation – failure. Water and electricity are extremely erratic or non-existent in some cases. It is very common these days to see people using lanterns in the city of Accra and with gallons trekking for hours in search of water – failure. The quality of education is at an all time low with 50% of JSS students who last year sat for Basic Education Certificate Examinations, failing "beyond pardon" – failure.
Things need to change and change is what the NDC is promising this country as can be seen in the pages of our "Manifesto For A Better Ghana". As our teeming supporters love to chant: "Yeresesamu".
The resources that you make available to our campaign will be put to the best use and for a good cause. Also, please help us build our e-mail list of supporters -- by sending us the e-mail addresses of other supporters, whom you know, to mills-mahama-ghana.com or [email protected] Thank you
John Evans Atta Mills