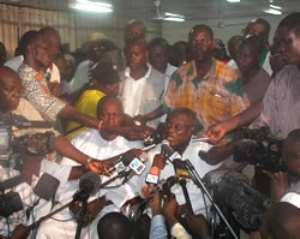 The National Democratic Congress presidential candidate John Evans Atta Mills has predicted a resounding victory for his party in the December elections.
According to him the policies of the New Patriotic Party have inflicted poverty on majority of the good people of Ghana with the few elite enriching themselves.
He promised that an Atta Mills led government would ensure equity and fairness to all.
The NDC presidential candidate made the pronouncements after he was officially declared a candidate in the December elections by the Electoral Commission Chairman, Dr. Kwadwo Afari Gyan at a short ceremony in Accra on Thursday.
The Prof. called on the EC to supervise free, fair and transparent elections to ensure a peaceful December polls.
He rebutted accusations of hiding behind his vice presidential candidate Hon. John Mahama to win the December poll, saying, he needed a vice president who could compliment his efforts in the development of the country.
Dr. Afari Gyan congratulated the NDC presidential candidate for fulfilling all the requirements and advised him to carry out a clean campaign.
The ceremony was punctuated with shouts of "yeresesamu" with the song "Onward Christian soldiers ...' sang to herald the Professors' pronouncements.
Dozens of supporters thronged the premises of the Electoral Commission to catch a glimpse of the event.
Meanwhile, Mr. Kwasi Amoafo Yeboah the aspiring independent presidential candidate was disqualified by the EC for his inability to meet all the requirements.
He failed to produce his tax clearance certificate to accompany his filing fees pegged at GH¢5000.
Story by Nathan Gadugah