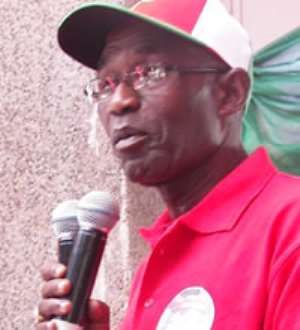 Samia Nkrumah and Lee Ocran, parliamentary candidates of the Convention People's Party and the National Democratic Congress respectively for the Jomoro constituency, have denied campaigning for the New Patriotic Party's flag-bearer instead of their parties' candidates.
The Statesman newspaper published a lead story on Thursday saying the two together with their supporters have been campaigning for the parliamentary slot and Nana Akufo-Addo for the presidency.
"While several known supporters of the CPP were seen queuing for Nana's T-shirts in his recent tour of the Western Region, some of the CPP parliamentary aspirants have been heard on their campaign trail campaigning for Nana and themselves," the paper alleged.
However, Mr. Lee Ocran, who is the incumbent Member of Parliament for the Jomoro Constituency, was furious about the publication and described the idea behind it as "mental leprosy".
Speaking to Joy FM's Super Morning Show today, he said the story was fabricated by his political opponents, who are "desperate" for power.
"My father would turn in his grave when he hears that," he said and emphasized he has on the contrary being campaigning against Nana Akufo-Addo.
Mr. Ocran described himself as the "peoples' man" due to the "fantastic" support he is receiving from his constituents.
He accused the ruling party of hatching "diabolic and very bad ideas" to paint the NDC black in order to give the NPP an upper hand in the December elections.
Mr. Lee Ocran was the chairman of the NDC manifesto committee.