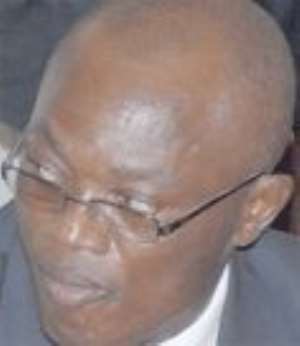 The forthcoming filing of nominations by prospective Members of Parliament (MPs) seems to have impacted the turnout at the House.
The Electoral Commission (EC) has scheduled today and tomorrow as dates for the filing of nominations by the aspiring parliamentarians.
Last week, the National Democratic Congress (NDC) MP for Asawase, Alhaji Muntanka Mubarak, appealed to the leadership of the House to suspend this week's sittings to give MPs ample time to go to their constituencies to file their nominations.
But the Majority Leader and Minister of Parliamentary Affairs, Mr Abraham Ossei Aidooh, stated in his reply that MPs who would not contest the forthcoming parliamentary elections would be present to perform the business of the House.
At yesterday's sitting, the House began proceedings with only 13 MPs from both sides. However, the day's business was aborted midway because of lack of quorom.
On Tuesday, less than 30 MPs, mostly those who were not seeking re-election and MPs from the Greater Accra and adjoining regions were in the House to perform their parliamentary duties.
Some of the MPs who spoke to the Daily Graphic said that filing of the nomination forms required ample time since prospective MPs had to be endorsed by 20 registered voters, among other requirements, hence the need for the House to have suspended sittings for the week.
The MP for Lower West Akim, Mr James Apietu-Ankra, stated that bills, such as the National Pension Bill, among others, which would be discussed during the week, were so crucial that they needed inputs from all MPs.
But it seems the leadership of the House was mindful of the limited time available to Parliament before the break on November 7, 2008 hence the decision not to suspend their sittings.
The House is expected to consider 10 new bills during the period in addition to bills which are already before the various committees of the House while papers and loan agreements are also expected to be considered.
The new bills include the Internal Revenue (Registration of Businesses) (Amendment) Bill, Institute of Marketing Bill, Trade Mark (Amendment) Bill, Criminal Offences (Amendment) Bill, Electoral Commission (Amendment) Bill, Internal Revenue (Amendment), Northern Development Fund Bill and the Parliamentary Service (Amendment) Bill, among others.
It is expected that the poor attendance during the week would continue till the end of the week.
Mindful of the enormous task ahead, the leadership of the House last week announced that the House would have extended sittings in addition to sitting on Mondays as from next week.
Some of the MPs, however, advised the Executive not to wait till the last day of the meeting before placing loan agreements before the House for consideration.
Story by Emmanuel Adu-Gyamerah