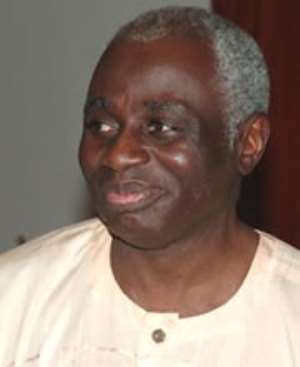 The Supreme Court will give judgement today in the case in which Tsatsu Tsikata is praying it to quash the five-year sentence imposed on him for causing financial loss to the state.
Tsikata, a former Chief Executive of the Ghana National Petroleum Corporation (GNPC), was found guilty on June 18,2008 on three counts of wilfully causing financial loss of GH¢230,000 to the state and another count of misapplying public property and sentenced to five years imprisonment on each count; to run concurrently.
He was charged in 2002 with three counts of wilfully causing financial loss of GH¢230,000 to the state through a loan he guaranteed for Valley Farms, a private cocoa producing company, on behalf of the GNPC and another count of misapplying GH¢2,000 of public property.
Valley Farms contracted the loan from Caisse Francaise de Developement in 1991 but defaulted in the payment and the GNPC, which acted as the guarantor, was compelled to pay it in 1996.
He, however, denied any wrong doing.
Following his conviction by the Fast Track High Court, he filed an application at the Supreme Court praying the highest court of the land to quash the lower court's judgement on the grounds that the trial judge had been biased.
According to Tsikata, the action of the trial judge at the Fast Track High Court had the potential of undermining the authority of the Supreme Court.
He said he filed the motion to enable the court to ensure that the administration of justice was not brought into disrepute by what he termed as "the desecration of justice that occurred on June 18, 2008, the date of his incarceration.
The Supreme Court, on July 31, 2008, fixed today, October 16, 2008 for the ruling, after Tsikata and the Attorney-General and Minister of Justice, Mr Joe Ghartey, had argued on the matter.
Tsikata described the attempt by the Attorney-General to support the trial judge's action as untenable, since she had said that she was adjourning her judgement until the Supreme Court determined his fate in respect of the International Finance Corporation (lFC) testifying for him.