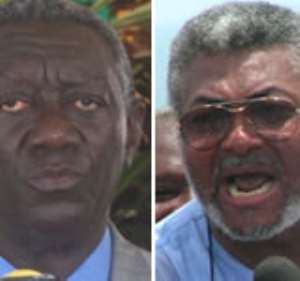 Former President Jerry Rawlings has condemned President Kufuor's recent comment about NDC flag-bearer, Prof. Atta Mills.
The former president described the comment as a sheer political gimmick.
President Kufuor at the weekend launched a personal attack on Prof. Mills, suggesting that the flag-bearer's health condition would not enable him withstand the rigours of the highest office of the land.
Prof. Mills is reported to be convalescing from a surgery he underwent in South Africa.
Speaking to Joy News however, the former president who spoke in a very low tone, said the remark by the President was a feeble attempt at weakening support for the NDC.
He indicated that Prof Mills "is certainly not in the best of health as we used to know, but…the situation is that he is on a recovery path."
"He is looking fitter than when some of you speculated against him," he added.
With the elections unfolding against the backdrop of the latest twist to electioneering campaigns, Mr Rawlings said the 'presidential smear' even digs up worse propaganda against the main opposition.
He indicated that the Akufo-Addo campaign team had spiced its messages in the Central and Western regions with suggestions that he (President Rawlings) was only using Prof Mills as a bait to come back to power.
Mr Rawlings said the ruling party's comments may only aim at creating a bad impression about the NDC, a strategy he said was not sustainable.
"They keep creating the impression that we're murderers, we're killers etc; and I literally had to address…you know…this," he intoned.
Perhaps in reinforcing his conviction about the NPP, Mr Rawlings declared, "When you're dealing with the NPP nothing should shock you. It doesn't surprise me that he is saying something like this about Prof Mills."
Author: Fiifi Koomson