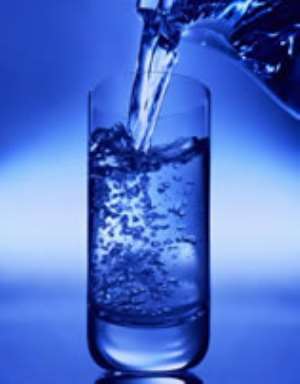 The Koforidua Water Project, with its treatment plant currently under construction at Bukonor, will start pumping treated water to the Koforidua Municipality in February, next year.
The facility would bring to an end the problem of perennial water shortage associated with the municipality.
Construction work on the project started in August last year by a Belgian firm, Denys Construction, and on completion would draw raw water from the Volta Lake to the treatment plant to make available about four million gallons of water a day to supplement the 1.2 million gallons per day currently being provided by the Densu and Okomen rivers.
The municipality's daily requirement of water is about four million gallons.
The Project Manager, Mr Okomen Mensah, made this known when the Chairman of the Public Utilities Regulatory Commission (PURC), Professor Frempong Boateng, and his team visited the site.
The PURC team was in Koforidua for firsthand information on the project as well as find out problems facing Acqua Vittens Rand (Ghana Water Company) and the Electricity Company of Ghana in the Eastern Region.
Mr Okomen Mensah said 70 per cent of construction had been completed, adding that with the current rate of work, the project would be completed within the scheduled three-year period.
He said when the project was completed, water would be supplied to New Juaben and some parts of the East Akyem Municipality such as New Tafo and Osiem as well as other communities along the pipeline.
"By the end of December, this year, phase one of the project involving the construction of the treatment plant would have been completed after which the pipelines currently being laid, would also be in the finishing stages for water to flow to Koforidua," Mr Okomen Mensah stated.
Professor Frimpong Boateng, who was impressed about the work being done by Denys Construction, with the support of Acqua Vittens Rand (Ghana Water Company), praised the two bodies for their collaboration that had hastened the work.
Prof Frimpong Boateng called on Acqua Vittens Rand to continue to offer good services to the people, and also advised consumers to promptly pay their bills.
Early on, the PURC team visited the regional offices of Acqua Vittens Rand and the Electricity Company of Ghana (ECG) where their respective regional directors, Messrs H.D.K. Bansah and R. Arthur-Forson, briefed the members on the activities and challenges facing the two companies in the region.
Mr Arthur-Forson stated that pilfering of the company's cables and the difficulties in collecting bills from consumers in rural communities were some of the problems facing his outfit.
He also said customers at Akyem Oda would soon be supplied with pre-paid meters.
Mr Bansah also told the team that old pipelines which often burst made it impossible for some communities to enjoy regular water supply.
He however stated that his outfit was doing its best to make water available for the people.