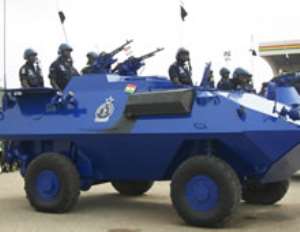 Oseadeeyo Akumfi Ameyaw IV, Omanhene of the Techiman Traditional Area, on Tuesday took the police to task for failing to arrest even a single culprit involved in last week's violence that occurred at Tuobodom in the Brong-Ahafo Region.
In a telephone interview with the Times on Tuesday, the Omanhene expressed dismay, saying "one week after the incident in which five people were injured from gunshot wounds and are still on admission at the hospital, the police have not made a single arrest".
Oseadeeyo Ameyaw said the lackadaisical attitude of the police is creating lawlessness in Tuobodom where some people have made themselves "owners of the land" in the town and terrorising innocent citizens.
The Omanhene narrowly escaped an assassination attempt on his life during the celebration of the Fordjour Kese Yam Festival at Tuobodom last Tuesday.
The Omanhene was on his way to Tuobodom from Techiman to join the chiefs and people in the merry making when his convoy came under gun fire attack at the outskirt of Tuobodom.
Soon after the incident, the Omanhene alleged the attack was carried out by a rival faction in a bitter chieftaincy dispute at Tuobodom.
This group, according to him, is led by a "self styled" Tuobodom chief, Nana Baffour Asare, who claimed to hold allegiance to the Asantehene.
Responding to the assertion of the Omanhene, the Wenchi Police Divisional Commander Superintendent Kwame Nkrumah Akomea, said the police have not reneged on their duties.
According to him thorough investigations were going on to arrest those involved in the act.
Superintendent Akomea said the situation at Tuododom was still volatile and any indiscriminate arrest would worsen the situation.
He added that the matter was a delicate one which should be handled with tact.