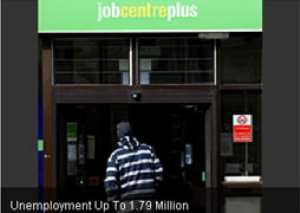 New figures show the number of unemployed in Britain jumped by 164,000 in the last quarter to stand at 1.79m, the biggest rise since 1991.
The figure follows yesterday's revelation that inflation has hit a 16-year high.
The amount of people claiming job seekers allowance also rose by just under 32,000 to stand at 939,000.
Employment minister Tony McNulty told Sky News: "It's a bad picture, but the job is to look forward and see how we can deal with any dip in employment rather than talking about the causes."
As the country heads into a recession, the Trades Union Congress urged the Government to implement urgent measures to stop more job losses.
The union called on the Government to ease the pain for those who find themselves out of work.
It said the Government should increase minimum redundancy pay and offer greater tax relief on redundancy payments.
Ministers were also urged to launch a full review of Government policies aimed at getting people back to work.
Planned reforms, dubbed "work for dole", should be scrapped and the Government should stop drawing up policies based on the assumption that unemployment was the fault of the jobless, the TUC said.
General secretary Brendan Barber said: "We have got used to record levels of employment, but the world has changed and we need new policies for jobless times.
"There can be no assumption that the people who are losing their jobs will find it easy to get new ones, and they will need all the help they can get with redundancy pay, retraining and personal advice.
"Ministers must reverse DWP job cuts, increase minimum redundancy pay and let people take up to £50,000 redundancy pay tax free."
An increase in job losses comes as fewer than half of the long-term unemployed hoped to find a job in the next year, according to a new study.
A survey of 500 adults showed the greatest fear in returning to a job was a potential financial "gap" when moving from benefit to work.
Many of those questioned complained about the system of having to wait up to six weeks to regain benefits if a contract finishes or a job is not suitable.
Barriers to returning to work after a long layoff included lack of skills and care needs of family members as well as poor health.
Source:Yahoo