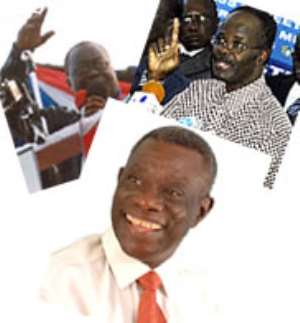 Political parties have admitted seeking spiritual refuge to fling them into power.
They cited Christian and Moslem prayers as well as consultations of certain divinities and fetish priests.
Their admission comes in the wake of the invocation of a river god Antoa Nyama by Daniel Ohene Agyekum, Ashanti Regional Chairman of the National Democratic Congress to prove the innocence of his party.
His party members were alleged to have assaulted their opponents, the New Patriotic Party and inflicted cutlass wounds on them.
In what appears to be a confirmation of an age-long practice by politicians, Mr. Asiedu Nketiah General Secretary of the NDC said invoking the spirit of Antoa Nyama is acceptable, especially among indigens of the Ashanti Region.
According to him all political parties during their numerous visits to palaces pour libation to seek political victory from the gods.
On Joy Fm's News Night on Tuesday, Mr. Nketia disclosed that the politicians sought the assistance of fetish priests in the run up to elections and challenged any politician to deny.
Without confirming or denying the submissions of Mr. Nketia, the head of communications of the Akufo-Addo campaign team Dr. Arthur Kennedy said it was the norm for Ghanaians to seek the face of God before going into major tasks.
Citing students and footballers as examples, Dr. Kennedy said politicians also seek the face of God before elections.
Kossi Dede of the Convention People's Party also confirmed the practice of politicians seeking traditional assistance but maintained it was only done out of the public domain.
However, the People's National Convention denied using fetish and traditional means to seek power.
Story by Nathan Gadugah