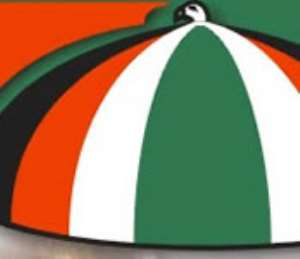 Executives and some members of the main opposition party, the National Democratic Congress (NDC) on Monday invoked the spiritual powers of 'Antoa Nyama' with eggs, schnapps and some leaves to vehemently deny the allegation that the Party was behind the recent attack on New Patriotic Party (NPP) activists at Anlo Fante New Town in the Subin constituency in Kumasi.
"Antoa Nyama" is believed to be a spirit that inhabits a river in Ashanti Region.
The NDC, led by Mr Ohene Agyekum, Ashanti Regional Chairman of the Party, said the opposition NDC had nothing to do with the attack contrary to what was published in the Monday, October 13 2008 edition of the "Daily Guide", an Accra private newspaper.
Speaking at a press conference in Kumasi to react to the publication, Mr Ohene Agyekum said the allegation by the NPP was just to tarnish the image of the NDC and portray it as a party of violent people.
"The NDC would wish to indicate that the whole episode is an orchestrated attempt by the unpopular ruling government to give the NDC a bad name and hang it", he said.
He said it was a fight between two factions within the NPP and that it had nothing to do with NDC.
He called on the Media to help to unmask the perpetrators for peace and justice to prevail, adding that the NDC was a party that believed in peace.
"We assure the nation that the NDC would never do anything to put this nation into disorderliness since the NDC believed in the rule of law, " he stressed.
Present at the conference were Madam Anita De-Sosoo, National Deputy Propaganda Secretary, and Alhaji Sanni, First Vice-Chairman.
Ashantis believe that there is a spiritual world running side by side with the physical world. The spirits are believed to be just and capable of solving boggling problems in the physical world.
The spiritual world is linked with the physical world through the various shrines, which are manned by priests and priestesses. These shrines like the Delphi Oracle in the ancient world enable mortal men to seek justice by invocation.
The action of the NDC is, therefore, in consonance with the belief of the majority of the electorate in Ashanti Region.