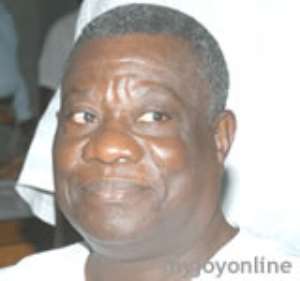 Opposition parties in Ghana are conferring to form a coalition to ensure that the New Patriotic Party (NPP) is defeated in the forthcoming general elections in December.
The founder of the United Renaissance Party, Kofi Wayo, who disclosed this to Joy News said the alliance by the political parties hopes to present a single presidential candidate, which is seen as the easiest way of sending the ruling party to opposition.
"We are in full consultation right now, we have been in serious meeting because of that," he emphasised.
Joy News' Sammy Darko probed Mr. Wayo for names of possible members of the coalition but that did not yield any result.
However, should there be the need for such a coalition, it may include the Convention People's Party, National Democratic Congress, United Renaissance Party and People's National Convention.
But who would be the coalition's presidential candidate and his running mate? Kofi Wayo answered, "When we reached an agreement, we will hold a press conference to tell you."
Meanwhile, a Joy News source in the NDC who spoke under anonymity confirmed the coalition and revealed that the political parties are considering Prof. John Evans Atta Mills, the NDC flag-bearer, as a potential person to represent them at the presidential level.
The coalition is also looking at putting up the CPP's presidential candidate, Dr. Paa Kwesi Nduom, as its running mate.
Mr. Kofi Wayo said a careful study of the political scene in Africa suggests that the opposition always gives a chance to the incumbent, "because they all split as everybody wants to be a big shot."
"If I look at the field, I will pull some votes but it is not enough to beat the incumbent," he explained.
Story by Isaac Essel