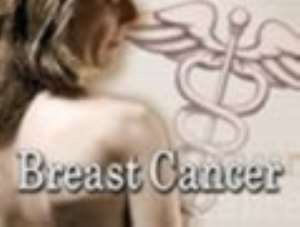 Over 558 cases of breast cancer has been recorded this year at the Komfo Anokye Teaching Hospital (KATH) in Kumasi as compared to 157 cases in 2007.
"At the radiotherapy centre at KATH in the Ashanti Region, Breast Cancer is the second most common female cancer after cervical cancer".
Dr. Baffour Awuah, Head of Oncology Directorate of the Komfo Anokye Teaching Hospital, disclosed this, when educating participants at a seminar organized by the Ministry of Health, as part of the 2nd Annual International Health Fair, which is on-going in Kumasi.
The seminar aimed among other things, to educate the general public about the dangers of breast cancer, its causes and prevention, to improve the health status of Ghanaians.
He said breast cancer can be acquired by eating high fat diet, after the age of 30, giving birth late, early girl child menstruation and the period after menopause in women.
Dr Awuah said the signs and symptoms of breast cancer include lump in breast, nipple retraction, nipple discharge and thickening of skin and advised Ghanaians to go to the various health centres for treatment, since early treatment can easily cure the disease.
He advised the general public especially people suffering from beast cancer to attend hospitals for the correct prescription instead of going to drugs stores to purchase over the counter drugs.