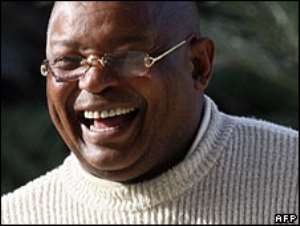 South Africa's ruling party, the African National Congress (ANC), has suspended a former minister who had threatened to split the party.
Mosiuoa Lekota resigned as defence minister after Thabo Mbeki stood down as president last month, before calling for the creation of a new party.
He was suspended for disciplinary reasons, party officials said.
The party has been dogged by splits between backers of the former president and the current leader, Jacob Zuma.
Mr Zuma won a bitter contest to replace Mr Mbeki as party leader in 2007.
Analysts say the move to discipline Mosiuoa Lekota makes an official schism within the ANC more likely.
But any new party is unlikely to be a major power unless it attracts figures with considerable political weight, they add.
No compromise
In a statement, the ANC said it was suspending Mr Lekota with immediate effect.
"The ANC cannot allow its structures to be used for purposes of undermining and betraying the organisation," the statement read.
"The ANC will take similar action against any other members who have indicated in words or action their intention to establish a party in opposition to the ANC," the statement added.
The suspension was announced on Monday after a spokesman for Mr Lekota said the former minister and party officials had failed to work through their differences, the Reuters news agency reported.
Mr Lekota has previously said a split within the ANC was "inevitable", and has described the party's leaders as "arrogant".
He has been an outspoken critic of the new leadership, saying ANC chiefs foster tribalism and glorify violence, although he has steered clear of naming names or criticising Jacob Zuma directly.
Mr Mbeki stood down after a judge suggested he may have interfered in the prosecution of Mr Zuma on corruption charges.
The former South African leader strongly denies this and has appealed against the judge's ruling.
Mr Lekota was one of several ministers who resigned along with Mr Mbeki.