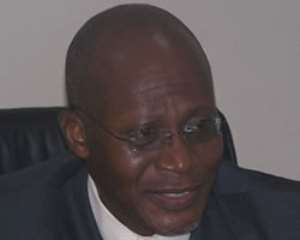 Mr. Kwesi Amoafo-Yeboah, independent presidential aspirant for Election 2008, on Monday selected Mr. X-Shalom Yaw Gonu, a journalists and radio presenter, as his running mate.
Mr. Amoafo-Yeboah told the GNA in Accra that he picked Mr Gonu, after going through a painstaking process, in which about three names were short-listed.
"We looked for someone as passionate as I am about the development of the country and indeed someone who shared the view that we are not our own enemies and that we needed to focus our energies on a common enemy, poverty and underdevelopment instead of on each other," he said.
Mr. Amoafo-Yeboah said the running mate would be officially out-doored on October 23, 2008.
Mr. Gonu's profile available to the Ghana News Agency, indicate that he is a practicing Journalist and currently the Coordinator for Radio Management Committee of Volta Premeir FM, in the Volta region.
He was once a talk show host on TV Africa, between 2005 and 2006 and a businessman working in the Properties, Real Estates and Construction industry.
Mr. Gonu holds a Bachelor of Technology in Hospitality and Tourism Management and HND in Hotel and Institutional Management from Ho Polytechnic, after obtaining his 'A' Level from Saint Thomas Aquinas Secondary School.
Gonu, 41, is married with one daughter and has paternal linkage with Anfeoga in the Volta region and a maternal link with Aworowa-Tuobodum in Techiman in the Brong Ahafo region.