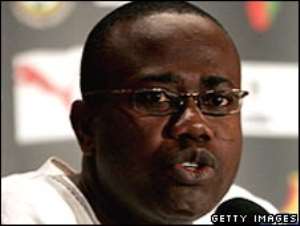 Nyantakyi said inexperience caused the trouble in Sekondi on Saturday
The head of Ghana's football association has blamed security and ticketing problems for the crowd trouble which marred Saturday's qualifying match in Sekondi.
At least 15 people were injured when more than 30,000 people crammed into the 20,000-capacity stadium for Ghana's deciding 2010 World Cup and Africa Cup of Nations qualifier against Lesotho.
Ghana FA chairman Kwesi Nyantakyi said a lack of experience on the part of local organisers was to blame for the trouble.
"What's happened in Sekondi was a case of inexperience by those responsible for security and ticketing, because these were two key problems that manifested themselves throughout the match," he told BBC Sport.
"A lot of people had tickets but did not have seats in the stadium and that suggests the tickets were probably over-printed beyond the capacity of the stadium - and that was a big mistake.
"Security appeared to be highly lapsed, because there were so many security personnel at the stadium but it appeared to me that the deployment was a problem."
The match was the first full international to be played in Sekondi and Nyantakyi said the first appearance by the Black Stars in the city's newly-built stadium may have overwhelmed local organisers and "accounted for the lapses".
However, he insisted that despite Saturday's events, the Black Stars should not "shy away from playing matches in Sekondi".
"What I think we need to do next time is to bring people from Accra and maybe Kumasi to come and stay here a week before the match and take care of all these things to prevent the recurrence of situations that occurred [on Saturday].
"If the facility's overstretched [again], damage could occur, a catastrophe could occur, a tragedy or deaths could occur, and that's what we all have a duty to prevent," he said.
The Ghana National Sports Council, the body in charge of overseeing the security and ticketing at the stadium, refused to respond to the comments made by the FA chairman, telling the BBC they were awaiting a full report on the incident.
Ghana won the game 3-0 to qualify for the final stages of the World Cup and Africa Cup of Nations qualifiers.