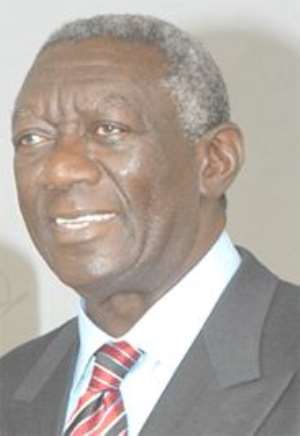 The presidential jet carrying President J.A. Kufuor and his entourage to Equatorial Guinea last Saturday aborted its flight 20 minutes after take-off because of technical problems.
The president was honouring an invitation by President Teodore Obiang Nguema Mbasogo of Equatorial Guinea to attend celebrations marking the 40th anniversary of that country.
According to Air Commodore Michael Samson-Oje, co-pilot of the 32-year-old Fokker 28 aircraft ( referred to as the 'Flying Coffin' ), the journey was abandoned because the pressure system ( pressurisation ) of the aircraft was not functioning effectively.
He explained that a faulty pressure system implied that the aircraft would have challenges in maintaining normal atmospheric pressure (air) for the safety of the crew and passengers when the external pressure became low.
The situation Air Commodore Michael Samson-Oje said, could also have negatively affected the smooth functioning of the aircraft in the course of the about two and half hour flight to Malabo, the capital of Equatorial Guinea.
In the circumstance, he said, the best option was to abort the flight, since the faulty pressure system had serious implications for operations of the aircraft.
The aircraft, which was then cruising around Lome , Togo, returned to the Kotoka International Airport and the crew informed President Kufuor about those technical challenges.
Story by Nehemia Owusu