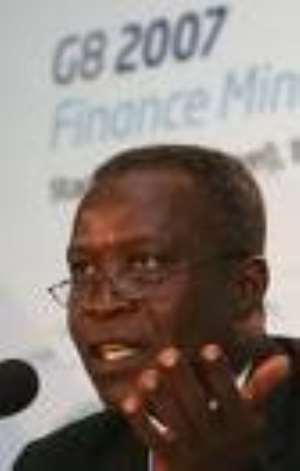 Late Kwadwo Baah Wiredu
A state funeral will be held in Accra on Thursday November 6 for the late Finance Minister, Kwadwo Baah-Wiredu who died last month in South Africa. The directive was given by President Kufuor when the family of the deceased minister, led by the Agogomanhene, Nana Akuoko Sarpong called at the Castle to formally announce his death and funeral arrangements.
According to a family spokesman the mortal remains of the late Baah-Wiredu will be conveyed to Agogo in Asante Akyem North for final funeral rites and burial on Saturday, November 8.
President Kufuor remarked that the nation has suffered the loss of a man who endeared himself to the well being of all. He said Mr. Kwadwo Baah Wiredu was very much in harness, serving the nation. So his funeral is the responsibility of the state. With the December elections a couple of months away, President Kufuor urged the chiefs and people of Agogo to ensure that peace prevails in the area.
The President further urged them to look for someone deserving to contest the parliamentary elections in the stead of Baah Wiredu. He asked them to avoid any wrangling that would breach the peace in the area adding that allegations of who killed the late minister must cease. This is with the belief that it is the Lord who gives and takes away. No one has the power to end the life of another. President Kufuor maintained that as a man of peace, Baah Wiredu must be given a fitting burial. Nana Akuoko Sarpong thanked the President and the government for the love and concern they showed during one week celebration of his death.