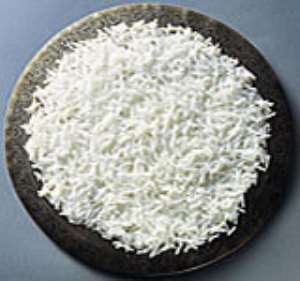 Here is a phenomenal message from Sarah in Ghana:
Exciting news! Eating local is in. Especially when it comes to Ghana Rice. EWB and the Ghana Ministry of Food and Agriculture are running a marketing campaign that promotes Ghana rice.
As part of EWB's newest initiative overseas, the Innovation Fund supports innovative ideas that just need a little bit of financial support to get started. I am excited to report an update on the Ghana Rice campaign which is receiving funds from the Innovation Fund. The Ghana Rice campaign is a response to decades of dumped rice from the US and Thailand in Ghana and advertisements promoting the perfume smell and pure white look of imported rice. The campaign will swing consumer preferences towards the more nutritious, fresh and locally produced rice.
So with the campaign only a couple of months from being released, how did we end up on National television?
To kick off the campaign EWB and MoFA organized a meeting with rice farmers, rice processors, millers and marketers. Representatives from rice organisations such as the Ghana Rice Inter-professional Body, and the Northern Region Rice Grower's Association represented the voice of rice farmers, processors, millers and marketers while representatives from the media ensured that their voices were broadcast across Ghana. At 6:00 am Ghana Standard Time today, the discussions during the meeting and the campaign itself was announced on national television. I wish I had some proof but just ask any Ghanaian and they'll tell you about it!
As for the meeting itself, there was a lot of discussion around rice processing. Having positive deviants present helped to highlight some of the positive practices in processing rice. Additionally, the dialogue between farmers, processors and millers was helpful in improving market linkages to improve quality.
The primary objective of the meeting was to raise awareness on the rice campaign and get rice farmers, processors, millers and marketers to pre-emptively respond to the campaign by increase the quality of their rice this year. Participants were passionate about playing their part to move Ghana rice forward (Ghana imports 70% of rice demand) and agreed that the campaign has to begin with them. They all pledged to eat Ghana Rice and share the campaign messages with others. We ate our words the lunch was served - a plate of local rice for each of us. It was the first time I've been to a meeting in Ghana that served local rice! (It is expected that a meeting in Ghana will always serve rice and chicken a meal that is also typical for the rich, urban and educated and that only imported rice and chicken is of high enough quality)
I am especially happy that the meeting was successful in engaging MoFA in work that looks beyond the farmer and includes other people involved in agriculture. This is an essential step that EWB is helping MoFA take in our Agriculture as a Business Program. For example, it is a common complaint that rice farmers don't thresh and bag their rice paddy properly so it ends up with too many stones and foreign debris. The typical MoFA response to this problem is to train farmers on the proper techniques. However, a lack of knowledge isn't often the inhibitor of a good behaviour. In this case, the barrier to behaviour change lay in the market. In the meeting, rice processors criticized farmers for putting stones in the rice bags in order to bulk up their produce and for not threshing their rice on clean surfaces. Farmers explained that they know the proper practices but don't do them because processors don't pay a premium price for this quality rice. So why do the extra work when it doesn't result in any benefit!
It was a good lesson for MoFA that technical problems are not always fixed by training or a new technology! Market incentives play a key part.
I'm very excited to learn more about how this is working in Ghana, and what it means for Ghanaian rice growers!
By Wayne