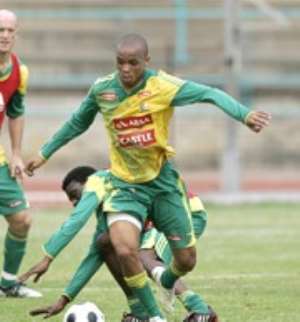 It was a case of "Out of Africa" in more ways than one when a weary, exhausted, but somewhat relieved Bafana Bafana returned from the gruelling 1-0 win over Equatorial Guinea on Saturday in the wee small hours of Sunday morning to prepare for Wednesday night's friendly international against Ghana in Bloemfontein.
And while the complicated formula for the next stage of 2010 World Cup and African Nations Cup qualifying has left many a fan bemused as to whether Bafana finished second or third in their qualifying group, the one certainty is that South Africa are definitely out of the 2010 Nations Cup Finals in Angola.
Caf, meanwhile, have confirmed that while South Africa finished second in Group 4 of the qualifying segment, they have the worst record of all the 12 second-placed teams and therefore had no chance of earning one of the eight places for second-placed teams who join the 12 group winners in the next round of qualifying.
The final nails in South Africa's Nations Cup qualifying were knocked into place by the rule that stipulates that results against the last-placed teams - in this instance Equatorial Guinea - would not be taken into account in deciding the best eight second-placed qualifiers.
Of South Africa's total of seven qualifying points, therefore, six were gained against Equatorial Guinea - thereby leaving Bafana with a net total of one point in deciding the successful second-placed teams.
Ironically, South Africa would now also be out of the running of qualifying for the 2010 World Cup but for the rule that stipulates the host nation qualify automatically.
But while South Africa's fate of failing to qualify for the 2010 African Nations Cup was effectively decided before Saturday's game in Equatorial Guinea, the victory achieved by Simphiwe Tshabalala's seventh minute goal on a bumpy, awkward pitch enabled Bafana to avoid the ignominy of finishing bottom in the group.
"It was not the most enjoyable of trips,' confirmed Bafana general manager Sipho Nkumane, "and that is apart from the visa debacle that prevented some members of the Bafana travelling group from entering Equatorial Guinea.
"If the game was of a more critical nature and African Nations Cup qualifying had been at stake," added the Bafana general manager, "we would have lodged an official complaint over some of the conditions and treatment meted out to us.
"Fortunately," said Nkumane, "the oppressive heat that greeted us on arrival was not nearly as stifling during the match itself."
But, to all intents and purposes, the pitch was even a good deal worse than the one prepared for the more important Bafana-Nigeria game in Port Elizabeth last month