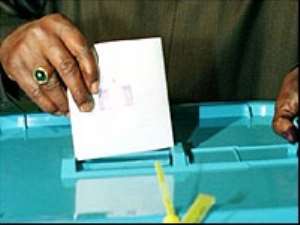 Election 2008 falling on a Sunday presents lots of choices.
God will surely be waiting patiently to see those who will forsake the Sabbath on December 7 and instead go worshipping their thumbs.
The Catholics do not want to be found complicit in the mass rejection of God on polling day and have announced that Catholics will not hold mass on voting day, December 7. In other words, God doesn't matter on that day, at least officially.
When I read it in the newspapers I couldn't believe a thing like this. However, I am not a Catholic and cannot debate Catholicism on any ground. I don't even understand it and wish I did - Virgin Mary and papal edicts and all that.
I also do not know whether the Pope is aware that Ghanaian Catholics are sacrificing God on the altar of the voter's thumb on December 7.
From a reverse angle, I can understand the Catholics, though. Didn't the Bible say, "Give to Caesar what is Caesar's and to God what is God's?" So Christians are giving to the state what belongs to the state. The human thumb is not anyone's bona fide property. It belongs to the Electoral Commission.
So it came to pass that Catholics exercised their heavenly inspired prophecy to know that if appropriate action was not taken and things were left to chance, the Vatican would be informed on December 8 that Catholics in Ghana have rejected God comprehensively. That would not do.
For example, if it reached Rome that only 20 per cent of the normal attendance was present in church, it would be an indictment of the papal doctrine and its relevance for Ghanaian Catholics. It would be interpreted to mean that Almighty God had lost the ballot to the thumb by a massive 80 per cent. That would be nothing short of sacrilege!
So to nip such a possibility in the bud, it was better to give Caesar his due. After all, the church will always be there for mass and communion. That is sound logical reasoning. The only problem is that faith is not based on reasoning. Faith is something more than logic and pl1i1osophy combined.
I don't think other churches will, however, forgo church service. It will be left to Christians to go and vote and come back to church, or attend church service first and go looking for their thumbs. You don't have to leave your thumb in the churchroom.
Well, this is not the first time Ghanaians are rejecting God. Every Sunday, many Christians reject God. Kwame Alomele is one of them, but there is room for repentance and getting back on track. That is the good thing about Christianity.
Yeah, people reject God because of common 'omo tuo' (rice balls) and groundnut soup spiced with 'dawadawa'. For this dish, they are prepared to tell God to wait till next Sunday or the next or forever. God can always wait but rice balls do not wait for any human stomach, so they reason. Neither do 'banku and tilapia'.
On December 7, there will be three options to choose from - God Almighty, the ballot box and rice balls. For any eligible voter, a choice will depend on a scale of preference. There are some who will think that their single vote will make no difference, so why bother? Why not go to worship the creator?
Others will think they will only hav13 the opportunity to vote again in four year's time that is if they are net dead by then.
And by Jude, there are some who will think that God is everlasting and can afford to wait, so the thumb must exercise its political right although it was created by God.
No doubt, families are going to be divided over what should be done. I know wives will naturally opt for church first, because women, by their nature are more religious. They have got faith! They are not like men who are more scientifically oriented in thought.
Sometimes my prayerful wife thinks she has seen a miracle and is excited. And I ask myself what has the daughter of Eve seen that cannot be explained by science? When she sees hope and exercises all the faith within theological jurisprudence, I am only interested in facts and figures.
For most parts I get amazed because she'd tell me, "Today, someone is coming to give you three million." And I get angry. Who on earth is thinking about me so much as to give me three million cedis? For what work done?
But she would insist: "When I was praying I saw it!"
"My friend, don't come and bother me".
When I am busy at work, she'd call to say that she was praying and saw it again. And I'd tell her to stop praying now, because the cash had indeed arrived, courtesy of an old friend, lodged firmly in my wallet, thinking of how to spend it. So time-out for prayers! And I'd start wondering why I can't see what this woman sees.
She once told me to pray before setting from work back home. I cut the line, because I was busy at work. When I was about to enter my car, I remembered the admonition and reluctantly said a begrudging prayer. But it saved my life.
For no apparent reason, an articulated truck veered off its track on the motorway and was just about to smash me off when I was overtaking it. How I got saved, only God knows.
So the women have faith and are not likely to forgo church to vote for any politician. On the other hand, men are political creatures and the number of men at first service will be very low. They'd want to make history by feeling they were part of those who elected Nana Addo or Prof Mills to office. So God can standby.
After all, once in four years, the thumb must eat I ink. Why deny it that right?
Email: [email protected] .