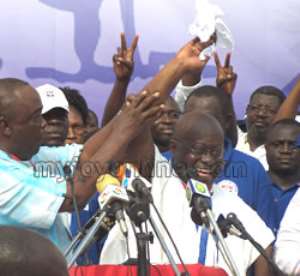 In a bid to ensure public trust in his leadership, New Patriotic Party presidential candidate Nana Dankwa Akufo-Addo has pledged to implement policies and reforms designed to strengthen democracy and tackle corruption in Ghana.
According to his political manifesto, Akufo-Addo intends to build on the work of John Agyekum Kufuor, who, during his two terms as president, has ensured greater freedom for the citizens of Ghana and focussed on the issue of government accountability.
During the Kufuor era, Ghana has witnessed great progress, as judged by the ruling government, in the area of freedom of speech, with the repeal of the Criminal Libel Law placing Ghana at the forefront of African nations in terms of freedom of expression.
Several other democratic moves were also brought in by the government to hamper corruption in the country and increase accountability, such as the Financial Administration and Procurement Acts of 2003.
In addition, the Whistleblowers Act, passed in 2006, increased the freedom of Ghanaians to alert the public to corruption, and the Public Accounts Committee now deal with weekly reports of the activities of government ministries, departments and agencies, in a bid to aid transparency.
The Kufuor government was also one of the first in Africa to volunteer to be assessed under the African Peer Review Mechanism of the New Partnership for African Development.
Building on the work of President Kufuor, Akufo-Addo has stated his intent to drive through several other bills, such as the Right to Information Act, and to establish a 'Citizens' Charter' aimed at strengthening the responsiveness and accountability of the public service.
The Right to Information Act, currently drawing press due to the public campaign of the Commonwealth Human Rights Initiative on the subject, will allow for increased transparency in public policy, leaving little room for government corruption and resulting in improved human rights throughout Ghana.
Following years of speculation, the passing of such a bill will prove to be a landmark in Ghanaian politics.
The NPP flag-bearer has also pledged to implement reforms to increase efficiency throughout the government, such as the pursuit decentralisation, allowing Ghanaians to better benefit from the government's policies at a local level.
Considering his policies, it would seem that Nana Akufo-Addo is keen to further distance the NPP from the once-authoritarian rule of Ghana under the (P)NDC.
In the absence of democracy and accountability, the country was left open to corruption and repression, deepening poverty and compromising the human rights of the nation's citizens.
If this culture of silence can be effectively extinguished, then Ghana should be in a position to look forward to a future of freedom and prosperity.
Source: GHP