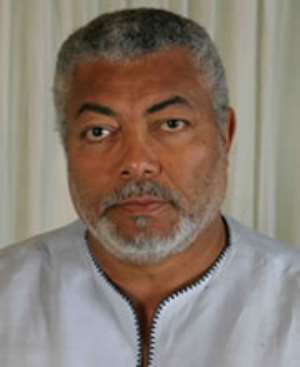 Former President Jerry John Rawlings has appealed to supporters of the National Democratic Congress(NDC) to liberate Ghanaians from economic hardships by voting the government out of power.
"Ghana's economy has declined and December 7 is the liberation day and the opportunity to wipe out the evil that has been inflicted on Ghanaians by the New Patriotic Party (NPP) government," he said at a rally to introduce the NDC parliamentary candidate for Central Ayawaso on Saturday.
He said the election in December was not a religious or ethnic fight but it was a battle between good and evil.
"They have damaged the economy of this country and now police officers, nurses and teachers cannot educate their children but before the NDC left office in 2000 that was not the situation," former President Rawlings said.
He said the NDC government faces a daunting task of putting the economy back in shape after assuming office and accused the NPP government of attempts to use fraud and violence to rig the election.
Former President Rawlings said the NPP government used negative propaganda to win the last election and that the electorate at the Central Ayawaso had become victims of such propaganda.
He urged supporters of the party to desist from selling their voter identity cards and use it to vote the NPP out of power.
Mr. Johnson Asiedu Nketia, General Secretary of the NDC urged the electorate to elect candidates who stand for truth, honesty and integrity.
Dr. Ofei Agyeman, NDC parliamentary candidate for Central Ayawaso, called for unity to ensure victory for the party.
Mr. Sekou Nkrumah, son of Ghana's first President, said the NDC was the only party that could champion the cause of the ordinary Ghanaian.
He urged all the Nkrumaist parties to join hands with the NDC and vote the NPP out in December.