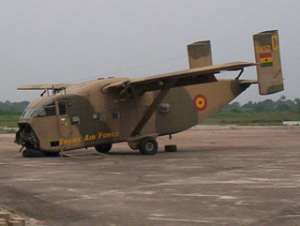 The Presidential Jet returned 20 minutes after take-off.
The Presidential Jet on Saturday returned to Accra 20 minutes after it took off for Equatorial Guinea, where President John Agyekum Kufuor was scheduled to participate in the 40th independence celebration of that country.
The temperature within the cabin began to rise a few minutes into the flight, due to what the Pilot, Air Commodore Michael Sampson-Oje said was the failure of the pressure system. He said the only option under the circumstance was to return the plane to the ground.
President Kufuor was accordingly informed and the journey was aborted.
The plane landed safely on the very tarmac from where it had lifted up into the air about 20 minutes earlier.
President Kufuor was invited by President Teodoro Obiang Nguema Mbasogo of Equatorial Guinea to join him in the celebration of the country's independence.
He was expected to return to Accra on Sunday.
Senior Government officials and the Military Command had earlier seen him off at the airport.
General Ignatius Kutu Acheampong bought the "Flying Coffin" in 1976.