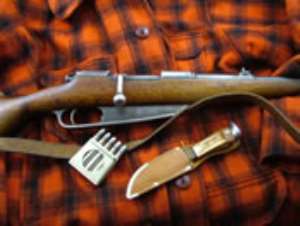 European Union (EU) diplomats in Ghana have joined the call for a clampdown on illegal firearms as a pre-requisite for peaceful elections in December.
For the effective mopping up of the illegal weapons in civilian hands, the ambassadors of EU countries in Ghana also recommended a strong collaboration between the various political parties and the security agencies.
At the end of a two-day tour of the Northern Region, the envoys noted that such a measure would ultimately help to ensure violence-free elections and encourage aggrieved parties to seek redress at the law courts, instead of resorting to the violent use of firearms to settle scores.
The French Ambassador to Ghana, Mr Francis Hurtut, stated this at a press conference in Tamale to round off the tour.
The visit afforded the delegation the opportunity to get first-hand information on political activities in the region, particularly the Tamale metropolis, in the run-up to the general election.
The eight-member delegation met with representatives of political parties, the Electoral Commission (EC), the Regional Security Council (REGSEC), religious leaders, chiefs and civil society groups.
It included the Ambassador and Head of the EU Delegation in Ghana, Mr Filiberto Ceriani Sebregondi, the British High Commissioner in Accra, Dr Nicholas Westcott; the Spanish Ambassador to Ghana, Madam Julia Olmo, and the Czech Republic Ambassador, Mr Miroslav Krenek.

Mr Hurtut, who is also the spokesperson for the ambassadors, urged the flag-bearers and the parliamentary aspirants of the various parties to entreat all their activists to refrain from violence and intimidation to ensure free and fair elections.
"Irresponsible rhetoric should be avoided, as well as inflammatory language that usually exacerbates passions without gaining more supporters to one side or another," he pointed out.
According to Mr Hurtut, the ambassadors '''acknowledge the deep need for justice expressed on many occasions by our interlocutors and rules must be applied impartially".
"Our objective is simply to support Ghana in having a peaceful and transparent election; a very encouraging sign in this respect is that all our interlocutors expressed the wish for an EU electoral observation mission to Ghana," he stressed.
He urged political parties to assist the EC to ensure a clean voters register by entreating their supporters to check on their particulars and "deposit challenges, if necessary".
"We had very fruitful exchange of views with the different actors in the electoral process and we are pleased to hear that all parties recognize that fraud and violence will be detrimental to the whole process, as well as Ghana's image," the ambassador intimated.

Mr Sebregondi, for his part, observed that the delegation had a fair idea of the security situation in the region and stressed that the illegal possession of firearms was a challenge.